Everyone knows Goose Island for beer. And that makes sense: They make a lot of beer.
But the brewers have been experimenting with bourbon for nearly 30 years, most notably via the beloved Bourbon County Stout, an annual release that sees beer aged in bourbon barrels. Now, they're expanding that whiskey appreciation into a line of bourbon-laced cocktails. ⁠⁠
And because they want you to be able to drink them easily and anywhere, they put them in a can. They'll hit shelves in November. ⁠⁠
The trio of cocktails features three-year-old bourbon sourced from MGP in Indiana, a mega distiller that also makes juice for big names like High West, George Dickel and Angel's Envy. Each can is 9% ABV.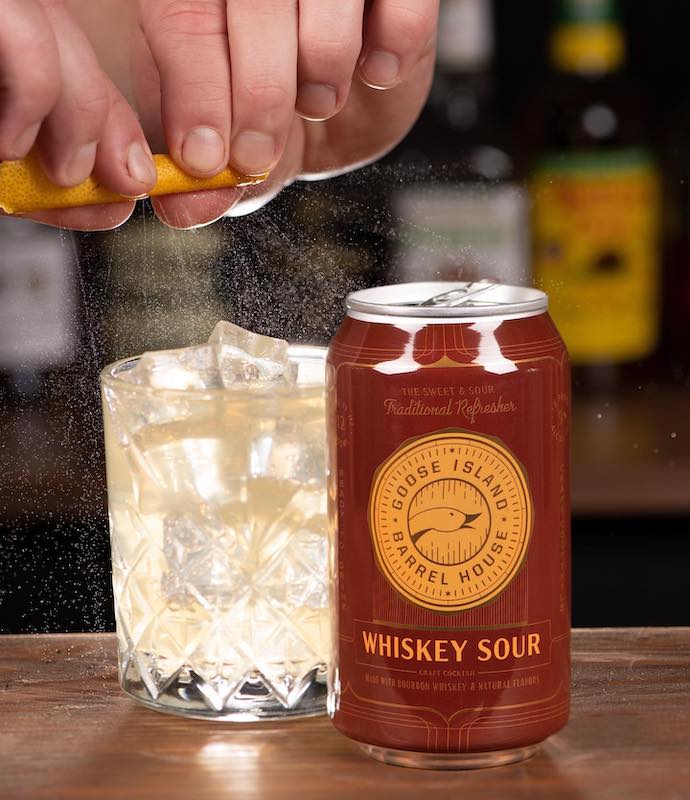 Here's what the brand has to say about each drink.
Whiskey Sour
Subtly sweet, tart, and spicy, yet hardly shy. Our riff on a whiskey sour pays tribute to that classic balance with rye bourbon, both lemon and lime, and a subtle maraschino cherry finish.
Old Fashioned Highball
A true highball has a light, bubbly and refreshing character. We've brought the two together. Our take on a highball cocktail starts with the rye bourbon complexity, a touch of bitters, cane sugar, and a wisp of orange and cherry to round it out.
Blackberry Smash
Fruit-forward, fizzy, and easy to love. We paired blackberries with a slightly spicy, rye bourbon backbone and just enough mint to refresh and unwind on a long afternoon.