There's a lot of whiskey in this world.
It's good to remember that whenever you're feeling down.
You can choose from thousands of bottles available across categories, including American, Scottish and Irish whiskeys, plus increasingly more examples produced around the world. Then you've got the endless stream of new bottles hitting the market, not to mention the collection of lauded but impossible-to-find expressions that you can never seem to get your hands on. It's enough to make your head spin. So, we'll help narrow things down for you.
Stellum Spirits is a new brand making two great whiskeys that are obtainable, affordable and available now at retailers and online.
Stellum bourbon and rye are produced by Barrell Craft Spirits, the independent blender and bottler of unique whiskeys and rums. While BCS is all about small-batches and limited releases, Stellum favors consistency—its spirits are blended to deliver classic flavor profiles that you can purchase again and again.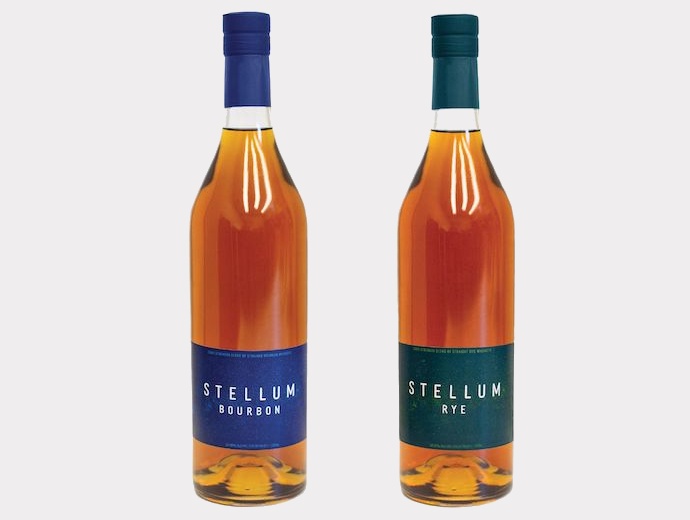 Stellum Bourbon
The bourbon begins with three Indiana-made whiskeys, two of which are high-rye and a third that's almost exclusively corn. From there, older barrels from Kentucky and Tennessee are folded in for extra layers of depth and complexity. Aromas include baking spices, tobacco, apples and toasted oak, while flavors range from vanilla, marshmallow and macadamia nuts to spicy cinnamon and black pepper. It's a hefty 57.49% ABV.
Stellum Rye
The rye is made from a recipe that's 95% Indiana rye and 5% malted barley, and it also includes barrels from Kentucky and Tennessee. It's full of stewed fruits, along with baking spices and a mild, cooling note of mint. An even bigger spice note punches you right in the palate, with a hint of pepper and sweet honey before that mint pops back up again at the end. It's an even heftier 58.12% ABV.
Both bottles are available in 45 U.S. markets and online, so if you want to try these, you won't have to visit the dark web or meet some shadowy figure in a parking garage.
We appreciate that in our whiskeys.