By now you're familiar with whiskey and gin. You've consumed rum and tequila. You've probably dabbled in cognac.
But for most American drinkers, rakija—a fruit brandy from the Balkans—is an unknown quantity.
One man wants to change that.
And, in a surprising twist, that man is Faith No More bassist Bill Gould. His brand, Yebiga, is one of the first premium, old-world-style rakijas to be exported from the Balkans into the U.S.
Gould was introduced to rakija (also known as rakia) while touring in Budapest in 1992, when a few Serbian fans gave him a bottle. Each time he returned to Europe, he sought out the local liquor, enjoying it in bars, restaurants and peoples' homes.
"The fact is, the only way I could get a good rakija before was to travel in the Balkans and load up the suitcase or wait for someone to bring a bottle from there," he says, noting that the best bottles are usually reserved for sipping at home with family and friends. "There just needs to be more awareness among Americans about this criminally underrated spirit and the deep cultural essence that is part of it."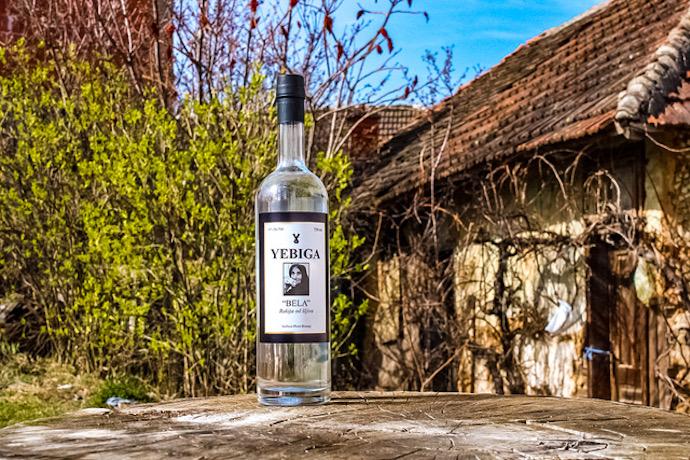 Rakija has been made for centuries in homes and on farms across Serbia, Croatia, Bosnia and neighboring countries. It's produced similarly to moonshine, often without the onerous eye of government supervision. Families utilize fruit like plums, apricots, grapes, apples and peaches that are sourced from their land, distilling the fruit in small stills and passing down the knowledge through generations.
Gould follows that template, working with a traditional Serbian distillery in the Goč Mountains to make Yebiga in small batches. The brand currently offers two products: the limited-edition PRVA and the just-released BELA. Both fall under the slivovitz category, which is rakija made with plums. PRVA is aged for a minimum of 18 months in wood and sports intense floral, citrus and herbal notes. BELA is a younger expression that's finished in stainless steel. It's light, clear and dry, with notes of flowers, terroir and ripe fruits.
It's yet to be seen if rakija will catch on in the U.S., but Yebiga isn't your typical celebrity-backed spirit. If Gould wanted to make a quick buck, he'd have tethered his name and efforts to vodka or tequila. Instead, he wants to introduce this lesser-known liquor to a broader audience. "Trust me when I say we need more of this in our lives," he says.
Hey, would the man who shredded the guitar on "Epic" steer you wrong?