If you're still figuring out cryptocurrencies and have no idea what NFTs are, well, now's the time to learn.
Because it appears this decentralized world we're living in isn't going away any time soon.
Adding to the fray is BitClout, a new blockchain-powered social network that lets you speculate on the reputations of celebrities and influencers with real money.
The platform has been pre-loaded with the top 15,000 Twitter users. No, these users did not grant the service permission. Is this legal? Eh, it's a gray area. Is it ethical? Hard to say.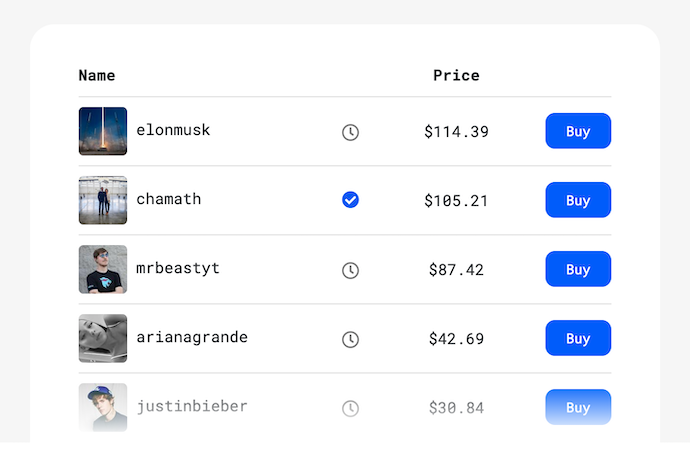 Every profile on the platform gets its own "creator coin" that anybody can buy and sell. The price of each coin goes up when people buy it and down when people sell it, just like stocks or cryptocurrencies. Per the company:
"Creator coins are a new type of asset class that is tied to the reputation of an individual, rather than to a company or commodity. They are truly the first tool we have as a society to trade 'social clout' as an asset. If people understand this, then the value of someone's coin should be correlated to that person's standing in society."
So, if someone does something good and their star rises, people are likely to buy their coin, the price will go up, and you'll make money. If someone does something bad—say, gets caught in a scandal—people are likely to sell the coin, and the price will go down. It's up to you to make smart bets.
Right now, popular coins include those for Elon Musk, venture capitalist Chamath Palihapitiya, Mark Cuban, Ariana Grande and plenty more icons of culture and tech. Pre-loaded users can claim their profiles to gain control of their accounts. You can have your own account and coin, too, simply by creating a profile. Once set up, you can interact with other profiles using typical social networking features, like following users and posting updates.
Provided you do some amazing things with your life, your coin might eventually be worth a lot of money.
Your mom won't understand it, but she'll be proud.