Guy Fieri wears sunglasses on the back of his head and regularly drops phrases like "off the hook."
He's also fed hundreds of thousands of hungry people after natural disasters and raised millions of dollars for out-of-work restaurant staff.
So, his karma ledger is faring much better than most.
And now, he's bringing his very particular brand of big, bold everything to cities across the country.
Guy Fieri's Flavortown Kitchen is a new delivery-only concept that has quietly launched in 26 states, and counting. To make it happen, Fieri partnered with Virtual Dining Concepts. Rather than setting up restaurants in each location, they are operating out of existing restaurants and kitchens. That's how he's able to bring you Cheesesteak Egg Rolls, whether you live in LA, Austin, NYC or Maple Grove, Minnesota.
The menu has 19 items, each described with a host of superlatives. Shared dishes include those egg rolls, Buffalo wings, queso and Jalapeño Pig Poppers. That last one involves fire-roasted peppers that are wrapped in bacon, stuffed with andouille sausage and pimento cream cheese and glazed with bourbon brown sugar BBQ sauce.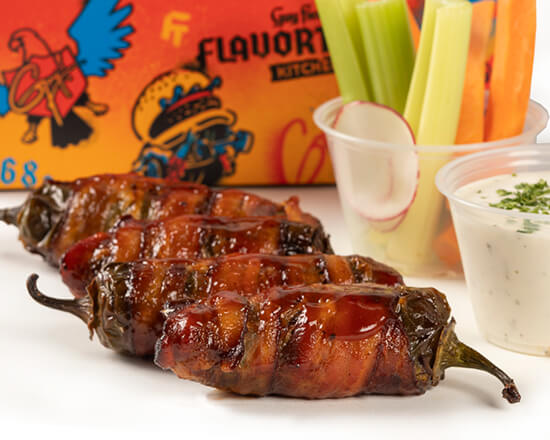 You can also choose from three burgers, a fried chicken sandwich and a Crazy Cuban Sandwich, with pork, ham, Swiss cheese, pickles, mustard and donkey sauce on a pressed hoagie with a side of crispy potato sticks (so... fries?). There's a Cajun Chicken Alfredo and a Chicken Parm-eroni, with breaded airline chicken breast, fresh mozzarella, provolone, pepperoni red sauce, crispy pepperoni hay (your guess is as good as ours), parmesan and spaghetti. Two salads are available to restart your heart.
In this age of constant food delivery, it's always nice to have another option. And if that option comes with "donkey sauce," even better. Because, as a quick Google search shows, donkey sauce is just Guy's version of aioli.
And not, like, sauce made from a domesticated ass.