Canned cocktails are a tricky proposition.
Do you like portability and convenience?
Of course.
Do you want a can laced with artificial sweeteners just so you can avoid making your own drinks?
No. No you do not.
So, if you're going the canned route, you might as well choose a brand that's been distilling for a couple decades. Like Dogfish Head. Best known for their craft beers, they've been making under-the-radar spirits since 2002 when they began distilling on-site at their Rehoboth, Delaware brewpub. They eventually debuted a spirits portfolio available to restaurants, bars and retailers in 2015, and today they offer a full gamut of gins, vodka, rums and whiskeys.
In other words, they know their way around a still. And while the brand's spirits are centered around the Mid-Atlantic, their just-launched trio of canned cocktails are available nationwide.
The team at Dogfish Head spent hundreds of hours honing these recipes. According to company founder Sam Calagione, the cocktails "were born from blissfully inefficient recipes, the overactive imaginations of our uber talented co-workers, and a distinct distilling process centered around innovation and boundless creativity." All that led to three more-interesting-than-usual cocktails, each canned at 7% ABV.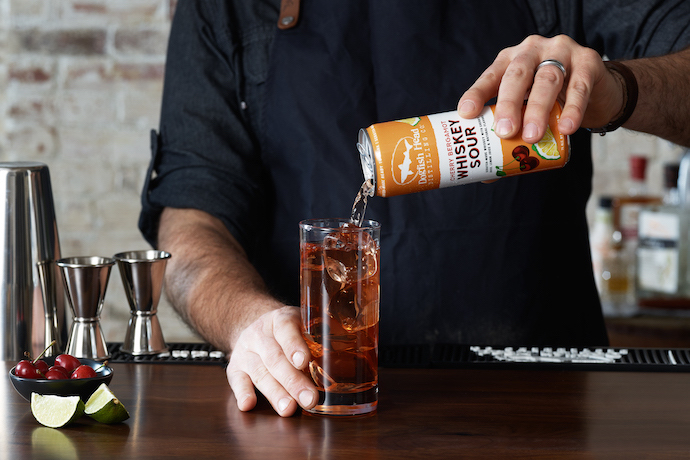 Blueberry Shrub Vodka Soda
Dogfish distills its Analog vodka with blueberries and macerates the liquid with lightly sweetened balsamic and red wine vinegar to create a blueberry shrub vodka. That is blended with sparkling water before canning. The cocktail is a deep burgundy color and sports flavors that range from subtly sweet berries to tart fruit. It already won "Best-In-Show" in the L.A. Spirits Awards ready-to-drink category.
Cherry Bergamot Whiskey Sour
This cocktail adds tart cherries and fragrant bergamot oranges to the company's malt whiskey. It's then blended with a house-made sour mix. Light amber in color, it's full of oak and vanilla, plus notes of citrus, dark cherries and honey.
Strawberry & Honeyberry Vodka Lemonade
Inspired by Calagione's visits to his friend's honeyberry farm in coastal Maine, this upgrade to your typical vodka lemonade sees Dogfish Head vodka distilled with honeyberries, then macerated with strawberries and blended with a house-made lemonade. It combines the tartness of fresh-squeezed lemons with a sweet berry taste.

A four-pack costs around $12, and the cans are 12 ounces each. So you'll have plenty to share, if you're feeling generous.