It's not too often that childhood nostalgia comes with a couple ounces of whiskey.
But that's what's in store for you at American Social, the restaurant and bar with locations around Florida.
Because they've turned the classic Peanut Butter & Jelly sandwich into a cocktail containing two kinds of whiskey, strawberry preserves and walnut bitters. And damnit if that isn't exactly the kind of critical thinking and innovation we need more of these days.
"The idea came from wanting to add a creative twist to a childhood classic, and the PB&J flavors work perfectly with bourbon," says Mike Herchuck, Director of Operations at American Social. "It's spirit forward, yet approachable by both your serious whiskey drinker and the casual cocktail sipper." Throw a mini PB&J garnish on there, and you've got a handy snack to enjoy with your drink.
Just in case you require an excuse to try this for yourself, January 24 is National Peanut Butter Day. Now, we've never been much for fake holidays, but we also know a good opportunity when we see one. Here's how to make it.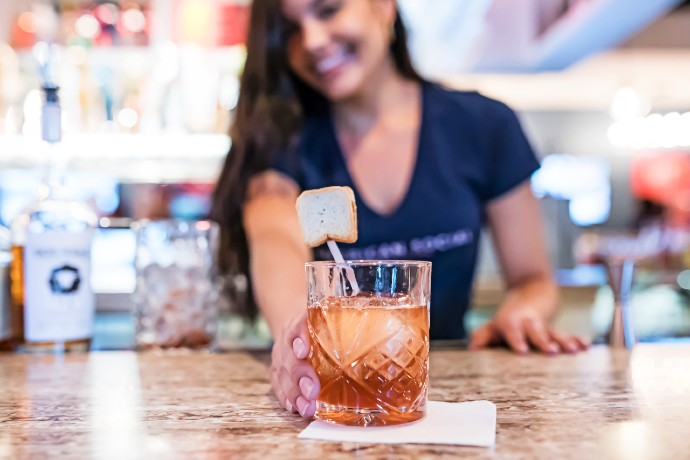 PB&J Old Fashioned
Ingredients
1 ounce Maker's Mark Bourbon
1 ounce Skrewball Peanut Butter Whiskey
1/2 ounce strawberry preserves
3 dashes black walnut bitters
Garnish: mini PB&J skewer
Instructions
1. Add strawberry preserves to a mixing glass, followed by the bourbon, peanut butter whiskey and bitters.
2. Fill the mixing glass with ice, then stir until well-chilled.
3. Strain over one large ice cube, and garnish with a mini PB&J sandwich on a skewer.