The start of 2021 brings a lot of expectations for a better year.
We don't know how things are going to shake out, but we're hoping for the best.
And we're not going to take anything for granted. Like the opportunity to drink a great Hot Toddy.
So fortunately, we've acquired an expert-approved recipe and some pro tips from New York bartender and drinks-maker-extraordinaire Jane Danger.
"For perfect toddies, I like to chafe the mug or glass of choice first," she says. "Fill it up with hot water while you are prepping your toddy. Pour out the hot water, and fill with the toddy for a hot drink that stays hot longer."
That's good advice. Here's more:
"Using tea or apple cider in place of hot water is an instant upgrade of flavor," she says, and that allows you to tweak the drink to your preferences or to the season. And when it comes time to adorn your toddy with some embellishments, use whole aromatic garnishes like fresh cinnamon sticks, freshly grated nutmeg and fresh citrus peels studded with cloves.
You're all set. Now, grab a bottle of your favorite booze and make the thing. For this recipe, Danger likes Jameson Irish Whiskey.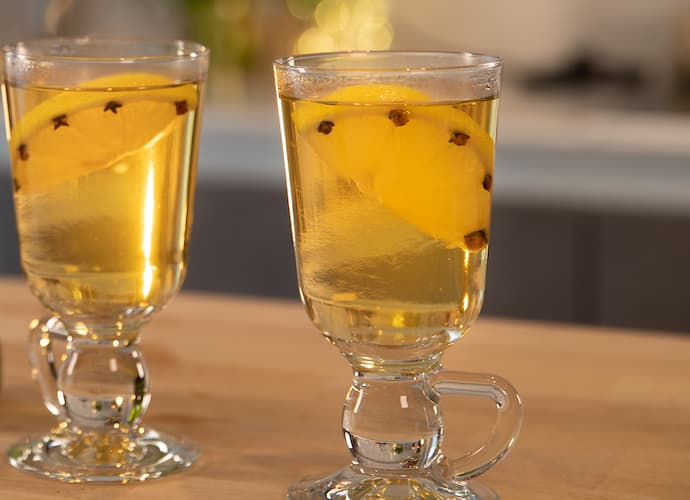 Hot Toddy Recipe
Ingredients
1.5 ounces Jameson
0.75 ounce spiced tea syrup*
3 ounces hot water (or tea or apple cider)
Lemon wedge
Garnish: cinnamon stick
Instructions
1. Fill a glass mug with hot water, and let it sit for a couple minutes to warm the mug, then discard.
2. Add the whiskey, spiced tea syrup and hot water/tea/cider into the mug.
3. Squeeze and drop the lemon wedge into the glass, and garnish with a cinnamon stick.
*Spiced tea syrup: Mix 1 part sugar and 1 part strong spiced black tea (chai or holiday blend) until dissolved.