Dinner at Eleven Madison Park is an event.
The three-Michelin-starred restaurant—and former title-holder of "World's Best Restaurant," serves a tasting menu that features between eight and 10 courses of meticulously created and intricately plated food.
But it's been closed since March due to the pandemic. So now, they're offering the next best thing: at-home meal kits.
For the first time ever, you can eat Chef Daniel Hume's food at home via EMP's just-launched Roast Chicken Dinner To-Go. They're taking orders now for pickup at the restaurant and select locations across the tri-state area.
The meal kit costs $275. So, it's not cheap, but it is a lot cheaper than dining-in, and it serves two-to-four people. Each purchase also has a charitable component, as the restaurant will provide 10 meals to New Yorkers in need.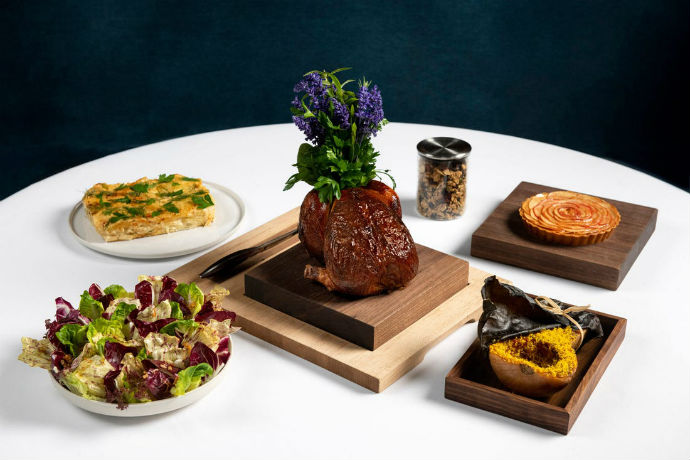 The kit includes:
A 3.5-pound chicken stuffed with brioche, foie gras and truffles
Butternut squash baked with seaweed and brown butter
Bitter greens salad with Banyuls vinaigrette
Potato gratin with Parmesan and gruyere cheeses
An apple tart with maple and almond
A jar of granola to enjoy for breakfast the next day, or whenever.
The kit also includes instructions on how to roast the chicken and heat the sides, so you'll have a hand in creating the final product.
You can also order wine and bottled cocktails with your meal. Pair that chicken with a reasonably priced bottle of champagne, or enjoy a pear-accented aperitif or a classic rye Manhattan before dinner.
Just remember: All orders must be placed 48 hours in advance.
So, don't wait until you're hungry.