There was a time in your life when a pillowcase full of assorted candy was the highlight of your year.
Those were good times. Simpler times.
Now, you wouldn't go knocking on strangers' doors for anything less than a pillowcase full of scotch.
But you can still enjoy the holiday with some sugary treats.
"Candy is overrated," says Alexandra Lourdes, owner of Saint Honoré Doughnuts & Beignets in Las Vegas. So, to impress your Halloween guests this year, or just to give yourself something to enjoy, follow her lead by making doughnuts instead.
But not just any doughnuts. We're talking about fried confections of the Halloween-themed variety that feature just the right amount of fake blood and Frankenstein green.
If you're not in the Vegas area, Lourdes provides five pro tips for making your own.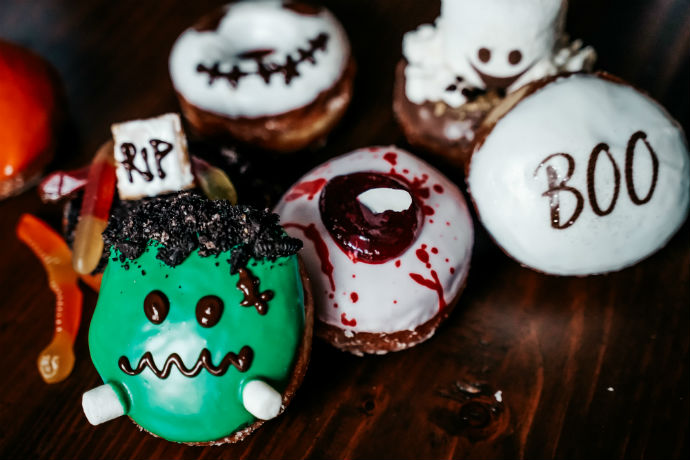 DIY Halloween Doughnuts
1. Get inspired. She advises to start by watching a few Halloween movies, doing your research and taking a few pictures for inspiration.
2. Plan ahead. "I always start with a paper and pencil and draw out what I want to do," says Lourdes. "That way, you don't have to start over so many times on your real doughnuts. I draw a circle on the paper and sketch out what colors, decorations and flavors I want to see."
3. Get your tools and props ready. You'll need everything below to make the doughnuts you see here:
Gummy worms & crushed Oreos for worms in the dirt.
Marshmallows for the ghosts.
Red, green and orange food coloring to make pumpkins, Frankenstein and blood.
Chocolate and pipe bags for a skeleton, Frankenstein's face, spider webs and any other writing.
Icing to dip the doughnuts in.
4. Make your icings ahead of time, suggests Lourdes. Melt your chocolate and put it inside a pipe bag, and get all your ingredients out so they're ready to use. "Icing dries so quickly, so when you dip your first doughnut, you want to have the toppings close and ready to be used."
5. And finally, don't forget the drinks. "Halloween doughnuts like ours will pair with anything," says Lourdes. "We are big sparkling fans, so I always push for a champagne cocktail to go with the sweet treats."
Doughnuts and champagne? This Halloween is sounding better by the minute.