Compiling the world's greatest whiskey collection takes time, money and perseverance.
But buying the book that compiles the world's greatest whiskey collection just takes a couple minutes on the Internet.
So, let's start there.
"The Impossible Collection of Whiskey" is a new book from publisher Assouline and author Clay Risen that features 100 of the most exceptional bottles in the world. Read it, display it, and use it to inspire what goes into your glass.
Within the 212 page tome, Risen unpacks the history of whiskey, covering famed distilleries and their finest bottles. For the visual learners among us, the book also features more than 150 photos and illustrations.
The 100 featured whiskeys were not selected solely for their taste, but also for rarity, age and innovation. Bottles from countries with lesser-known whiskey markets, like India and the Czech Republic, sit beside storied American classics like Pappy Van Winkle. And some of the most coveted bottles on the market get a nod, like Ireland's Midleton Very Rare 45 Year Old, which is the world's oldest, most expensive Irish whiskey.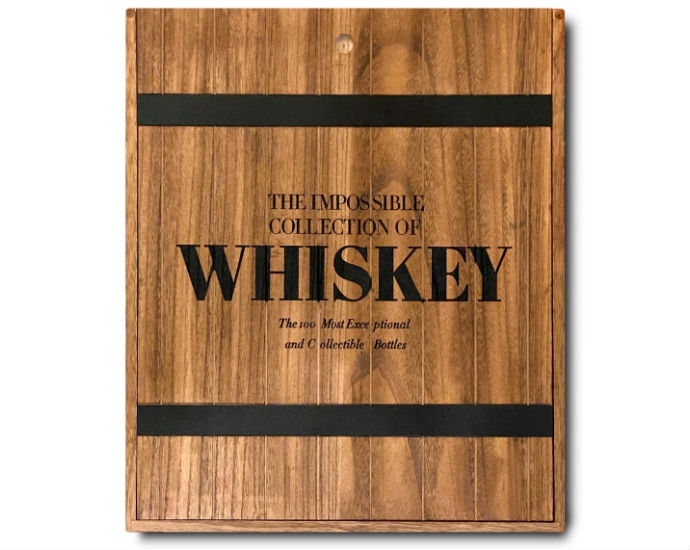 It's unlikely that anyone could assemble all of these desert-island whiskeys in one place. After all, some are exceedingly rare. But we're not going to stop you from trying, and we can certainly think of less worthwhile pursuits.
The book is packaged in a wrought-iron trimmed wood box that's modeled after an authentic whiskey barrel, so it will look great on your coffee table. Or a lucky friend's coffee table. Or in your hands, as you sip an expensive dram in your favorite leather chair with your white gloves on.
Ah yes, the book also includes a canvas tote and white gloves, presumably to help you keep each exquisite page clean.
Or to pretend you're a Disney character.