Remember bars?
And cocktails made by professionals?
Yeah, those were the days.
Fortunately, you can still experience those well-made drinks at home thanks to cocktail kits and, even easier, canned cocktails.
Enter Social Hour, a new line of just-launched canned cocktails from co-founders Tom Macy and Julie Reiner, the NYC bartenders behind some of the biggest watering holes in the city, including Clover Club and the dearly-departed Flatiron Lounge. Social Hour is available now in New York and New Jersey. Stay tuned for wider distribution and the ability to purchase cans online.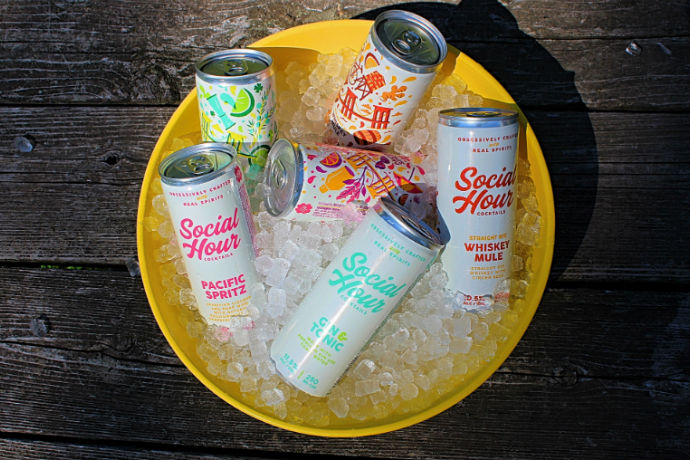 The company began as Macy's passion project during his years-long quest for the perfect G&T, and it's named for what his family has always called cocktail hour. "Yes, there were cocktails, but it made me realize that it was also about acknowledging the social element and the celebratory nature of our time together, which has fostered the real spirit of togetherness and family," he says.
Whoever you're drinking with, you can clink together three different drinks: a Gin & Tonic, Rye Whiskey Mule and Pacific Spritz. Each 8.4-ounce carbonated cocktail ranges from 8 to 11.5 percent alcohol-by-volume and is available in a four-pack.
"We've made a career crafting the perfect cocktail," says Reiner. "This is an important distinction because we're not a spirits or beverage company trying this out because it's hot. We are truly cocktail-makers at heart."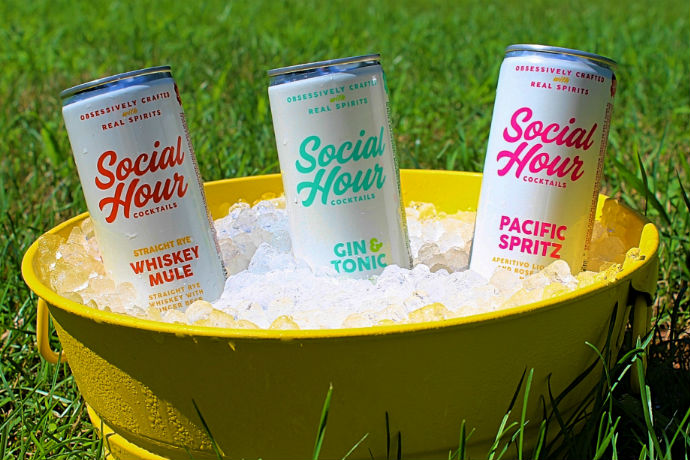 Here's what you're working with:
Gin & Tonic
The G&T starts with navy strength gin from New York Distilling Company. That gets blended with a tonic water that's made exclusively for this drink. Stow a few of these in your bag along with a couple limes to improve any picnic.
Straight Rye Whiskey Mule
This riff on the classic Mule is made with New York Distilling Company's Ragtime Rye and spicy, citrus-forward ginger beer. You can drink it cold straight from the can, or pour it over ice with a squeeze of lemon or lime.
Pacific Spritz
Here's an aperitivo-style cocktail with a tropical spin. It's made with a blend of rosé wine from the Fingerlakes, plus grapefruit and a hint of passionfruit. Serve it cold straight from the can, or try it over ice with an orange or grapefruit peel.