First, the bad news: your omelets aren't living up to their potential.
Sorry.
Now, the good news: you're about to start eating omelets at their very, very best.
Meet the Potato Chip Omelet, a delightful combination of damn good omelet with crispy potato chips, chive crème fraîche and a generous heaping of Kaluga caviar. You can find it at Cathédrale, the new French-Mediterranean restaurant located inside the Moxy East Village hotel in New York.
"While doing research for the Cathédrale Menu, I had a version of this dish at Chef Eric Frechon's restaurant in Paris called Lazare," says Executive Chef, Jason Hall. "I always wanted to find a home for it on a menu back in NYC. The mark of any good chef is the preparation of a simple omelet, which is why it has its place on many great French restaurants."
And the mark of any great chef is the ability to turn a humble omelet into a luxury breakfast topped with caviar.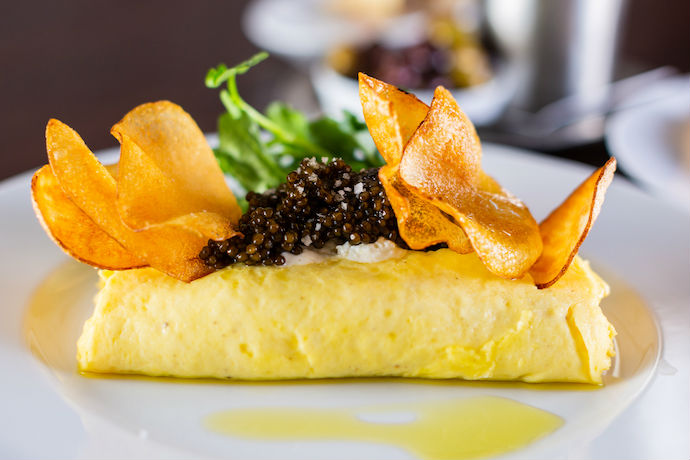 How to Make a Perfect Omelet
Below, Chef Hall shares his tips for making great omelets, with or without the extras.
1. I prefer a fork to a whisk for omelets because I don't want to work air into the eggs. Air bubbles are insulators and can slow down cooking if you're not careful.
2. Bring your eggs up to room temperature before adding them to the pan. This will ensure that the omelet cooks faster, and the faster an omelet cooks, the more tender it's going to be.
3. Heat your pan for a few minutes before adding the butter. Even a nonstick surface is pocked with microscopic pores that eggs can fill and grab onto. Heat expands the metal, squeezing those openings shut.
4. Add cold butter after adding the eggs. This will help to emulsify the butter into the eggs, resulting in a softer, creamier omelet.
Do all of the above, then top the result with crispy chips, crème fraîche and caviar.
Good luck ever eating a normal omelet again.