This Labor Day, you deserve to relax. To take some time for yourself, free from the demands of daily life, with a comfortable chair, cold drinks and good food within reach.
So, cooking an elaborate meal is out of the question.
But putting things on a board and then eating them... that you can handle.
The Ultimate Labor Day Charcuterie Board
To provide you with inspiration and instructions on building an enviable meat-and-cheese-and-more board, we enlisted some experts. See below for their pro tips, then kick back and enjoy your day off.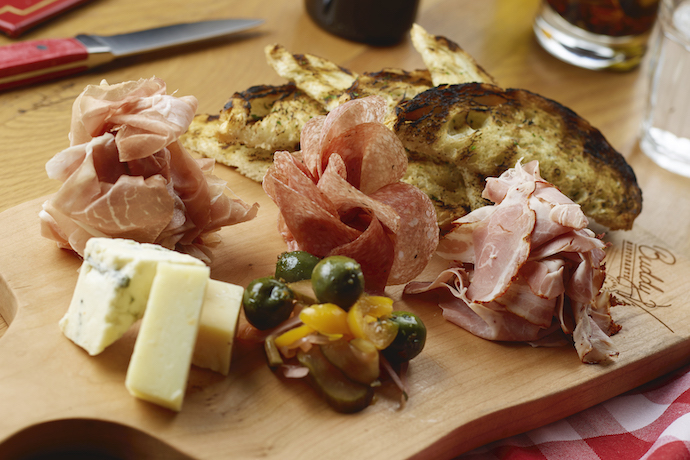 Know Your Audience
At North Italia, the Chef's Board features prosciutto di parma, pecorino Toscano, crescenza, grilled piquillo pepper, pesto zucchini, Castelvetrano olives, marcona almonds, fig mostarda and grilled bread. You... don't have to be quite so thorough. But you can learn something from Chef Carlos Calderon.
The first thing you need to decide is the audience and the occasion. Do you want something light for an appetizer, or something heavier to fill people up? Are you serving 50 guests, or just creating something quick for two? "The goal is to create a balanced board with the items presented," says Calderon. "You want a variety of items for all palates that'd be best enjoyed over conversation."
Start with Meat and Cheese
That seems pretty obvious for a meat-and-cheese board, but still, take heed. "Start with meat and cheese and build from there," says Calderon. "Salty with something sweet, heavy with something lighter."
Jesse Maldonado, head chef at Estiatorio Milos in Las Vegas, agrees. At his restaurant, he creates a Mediterranean twist on classic charcuterie with Greek bottarga—salted, cured fish roe—plus assorted cheeses, grilled eggplant, olives, spreads, crostini and black sesame lavosh. "Decide what kind of meat you would like to serve and then the cheeses," he says. "Complement those with dips and/or spreads along with something sweet. If you have all of these items, you will have a well-balanced board that will keep the palate interested."
Acid Is Your Friend
Load up your board with fatty meats and cheeses, and you'll be dying for something to cut the richness. That's where items like pickles and olives come into play, says Buddy V's Executive Chef Bryan Forgione. His Salumi & Cheese Board features multiple meats and cheeses, plus olives, pickled vegetables and grilled bread.
"They really balance things out," he says. "The acidity [of the pickles] plays well in contrast with the richness and complex flavors of the meats and cheeses." Bread is another winner that provides a more neutral contrast to the other flavors. "The grilled bread is a great vessel, and the grill adds another level of flavor to the board," adds Forgione.
Create the Perfect Bite
"I love Greek bottarga because it has all the elements of a perfectly balanced bite: saltiness from the fish, brine flavor from the capers, a touch of sweetness from the eggplant puree and crunch from the crostini," says Maldonado. You don't have to serve bottarga, of course, but it'll help to consider how each individual component will get along with its neighbor.
Don't Neglect the Drinks
Obviously any good charcuterie board needs something to drink alongside it. "Consider all the elements, such as what wine you are serving," says Maldonado. "You want to create a nice dish around the wine." Same goes for beer and cocktails. Rather than making drinks an afterthought, consider what you're serving, and try to pair the food with the drink. A crisp white wine, refreshing pilsner or farmhouse-style saison is a great foil to heavier meats and cheeses.