There's a subscription box for damn near everything these days.
Meals you have to cook for yourself. Mysteries to solve. Moss for your terrarium.
Like we said, damn near everything.
And yet, you're still purchasing sake from stores and restaurants like it's 2013.
Today, that changes. Because today you're reading about Tippsy, a new service that's bringing premium, straight-from-Japan sake directly to your door. It's operational now, which means you're one step closer to going wild on some Junmai and Daiginjo sakes in the comfort of your own home. And also learning what the hell those words mean.
Tippsy is currently featuring more than 200 different bottles across a dozen categories and a range of flavor profiles. It's a lot to take in. Fortunately for you, they're doing all the heavy lifting—you just have to sit back and reap the benefits.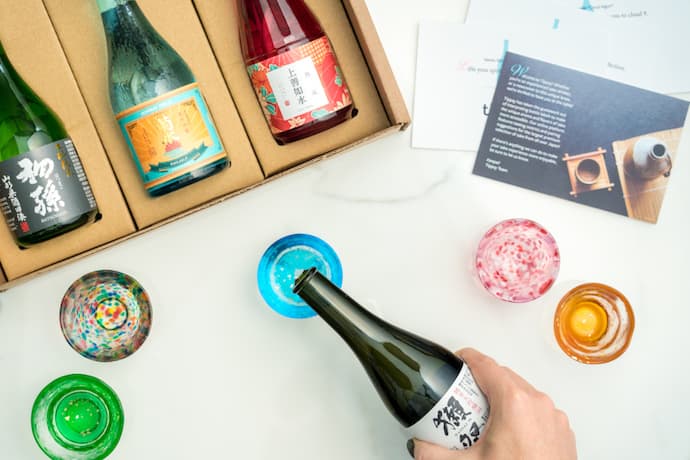 If you sign up for the subscription box, each month three 10-ounce bottles will arrive at your door. Many of those liquid surprises will be unique sakes that you can't find elsewhere, and each one comes with a detailed tasting card so you know exactly what you're drinking. It's a great way to experience some different styles and flavors without shelling out money for full bottles.
If you taste something you really like—or if you'd like to skip the subscription route entirely—you can browse the whole collection online and purchase individual bottles or make your own mix-and-match case. Each bottle features all the need-to-know details. For example, the Akatsuki Junmai Daiginjo hails from the Miyagi Prefecture, sports a "light and dry" taste profile with notes of walnuts and flowers, and pairs nicely with squid.
So you'll want to find a squid subscription box, too.