Urban carnivore seeks rural herbivore.
Must be hormone-and-antibiotic-free, and should display extensive marbling.
...
That would be a super weird dating profile.
So, fortunately, it's just how you'll be using Ren + Bos, your new meat-focused match-maker. It's a beef purveyor with extraordinary contacts in the world of independent cattle ranches. And it wants to ship some of the country's best beef straight to your door, exactly how you like it.
To start, you'll go to the site and type your zip code into a small box. That will lead you to a page filled with an ogle-worthy assortment of beef, from hulking tomahawks to American wagyu strip steaks marbled like the milky way.
That's not all you'll see. Each of these photos is labeled with the breed of the cattle, the name of the ranch, the type of feed it was raised on and confirmations of its antibiotic- and hormone-free status.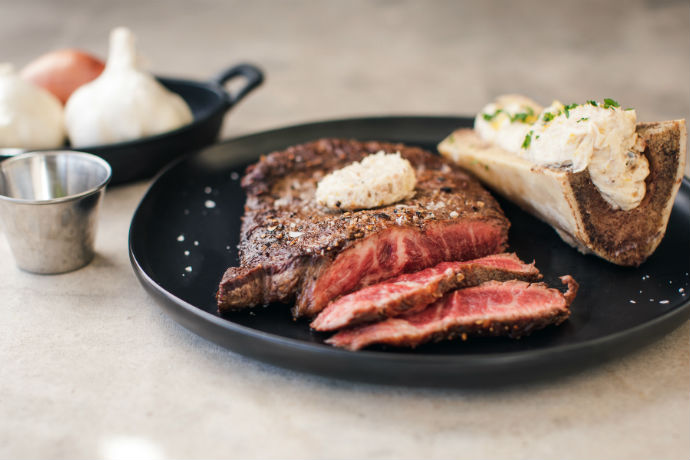 You can also easily search by any one of these terms if you want to get straight to the Bermuda grass-fed osso bucco from Brock, Texas or corn-and-apple-fed New Mexican teres major you seek. The site also has plenty of information on all of the ranches it works with, including profiles of the ranchers themselves, as well as their practices and philosophies.
Once you find what you're looking for, you'll click to learn more about the box it's included in, which typically sports several pounds of different cuts from the same ranch. Add it to your cart, and then they'll send it to you. For money.
All in all, it's a nice way to sample different breeds, pasturing methods and cuts of beef that you may be curious about or fond of. And, while only ranches from a few states are currently represented on the site, it's growing. There's even a forthcoming option to crowd-fund your own cow.
You are getting pretty tired of funding everyone else's cows.