Richard Paterson, Master Distiller at The Dalmore: U up?
Massimo Bottura, world-renowned chef at the three-Michelin-starred restaurant, Osteria Francescana: Ya. Sup?
And just like that—although obviously not really—a once-in-a-lifetime collaboration was born, between one of the world's finest whisky distillers and one of the world's finest chefs. The result: an exquisite, highly exclusive bottle of The Dalmore L'Amina single-malt scotch whisky, aged 49 years.
Now, we should warn you straight away: this won't be the easiest bottle of whisky to get your hands on. In fact, there's only one in existence, and you'll have to bid on it at an online Sotheby's auction—starting tomorrow through May 9th—all proceeds of which benefit Food for Soul, Bottura's non-profit fighting food waste. So...yeah. It's actually probably the hardest bottle of whisky to get your hands on.
And yet, it very well could be worth the trouble, presuming you like to drink very nice spirits created by very talented people.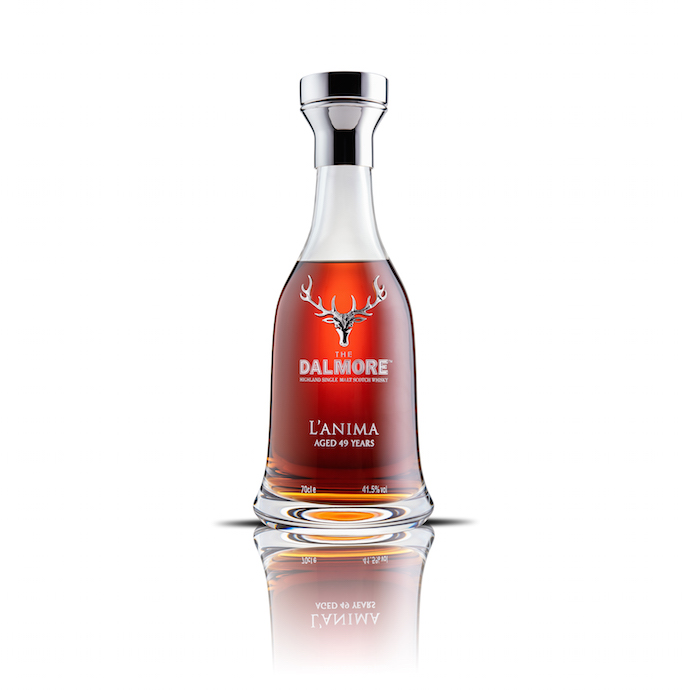 You may recall that Bottura's relatively discreet restaurant in Modena, Italy, has held the title of World's Best Restaurant in both 2016 and 2018; his immensely flavorful spins on traditional Italian fare—like the celebrated Five Ages of Parmigiano Reggiano—have earned him the adoration of critics, customers and Anthony Bourdains alike.
You may also recall that Mr. Richard Paterson has been the esteemed Master Distiller at The Dalmore for nearly 50 years, making him one of the most revered whisky men of his generation.
Sparked by the conversations between these two connoisseurs, Paterson drew already-matured expressions from three of The Dalmore's most prized casks, including one that previously held 40-year-old Pedro Ximenez sherry, and another that contained Graham's Vintage Port. The final product is a mélange of rare whiskies with distillery's signature chocolate-orange profile and flavors evocative of Bottura's kitchen. On the nose, you might appreciate the aura of bitter chocolate and old English marmalade; on your tongue, you'll experience hints of pecan pie and crème brûlée, along with lingering notes of blood orange and fig. In the plainest possible terms: it'll be freakin' delicious.
Befitting the spirit's quality, the L'amina will come in a crystal decanter with a sterling silver collar, contained in a bespoke, handcrafted cabinet made from Italian Olive Wood, American Black Walnut and solid Ebony. Oh, and one more thing: if you manage to win the auction, you'll also win a dinner for two at Osteria Francescana.
What an all-time great cherry on top.