Being editors of this website, we're not unfamiliar with the pragmatic art of the cocktail kit—otherwise known as a small box of things expressly designed to help you get tipsy better.
But we've never laid eyes upon a kit quite as comprehensive and thoroughly thought-out as this one. Taking its cues from the sleek, minimalist Scandinavian aesthetic, the Q-Kit manages to fit over 10 different tools inside a cool-looking carrying case the size of a toolbox. Then there's the proprietary app, still in beta, that serves as a constantly updating cocktail database, with videos of world-class bartenders demonstrating how to make whatever drink you're about to drink. You can pre-order it now for a September delivery on IndieGogo. (The campaign launched today, but even if it's not fully backed, the kits will be manufactured.)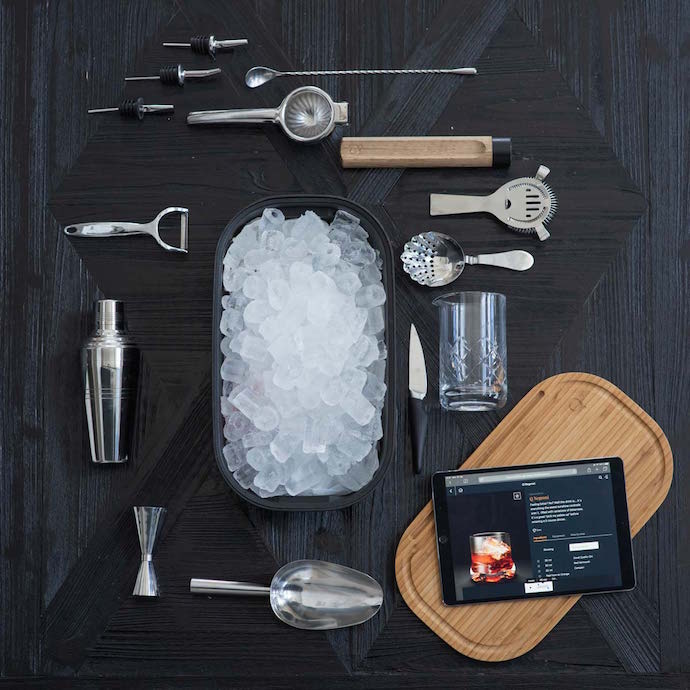 This thing was designed by a crack team of photographers, producers and industry folk, all of whom evidently really want to help you mix better drinks at home. In particular, they got a man named Kenji Jesse on board. He's a globetrotting luxury alcohol consultant whose claim to fame is holding the record for running the world's largest cocktail lesson, which boasted over 1,700 participants. Calling on his pedagogic expertise and network of bartenders around the world, he's worked tirelessly to grow the Q-Kit's database of cocktails (and mixologists creating those cocktails on camera). Barkeeps featured on the app include global bartending champion, David Rios; Felice Capasso, the bar manager at the Thief Hotel in Oslo (which the Times called the most opulent hotel in Norway); and Marc Alvarez, the bar manager for the famed Barcelonan chef, Albert Adrià, whose restaurant Tickets was ranked 25th on 2017's World's 50 Best Restaurants list.
The app will initially focus on more classic cocktails, as well as nice twists from the bartenders who love them, plus mocktails and party-forward punch bowls. What you'll see is essentially a visual tutorial of the recipe. Each step highlights what tools you need, and the attendant video demonstrates the actions you need to take. Given the bartenders are using the same exact tools as you are, it should be pretty easy to follow. As in: nearly impossible to fuck up.
In addition to your basic tools—a shaker, a jigger, a bar spoon—the kit stores a muddler, a julep strainer, a Hawthorn strainer, a Mexican elbow juicer, a fruit zester, a pairing knife, three speed pourers, a cutting board and, lest we forget, a mixing glass. It also comes with an ice scoop—which you'll need once the emptied-out kit itself becomes an ice box.
It's hard to imagine you not being the hit of whatever party you bring this to.