Who can say whether Roma will take home the award for Best Picture on Sunday night, or whether Spike Lee will finally win for Best Director, or whether I'll break down in sobs during Bradley Cooper and Lady Gaga's rendition of "Shallow." All we can do is fill out our ballots, gather our loved ones close, nervously sip our buttered popcorn martinis and watch it all go down.
Uh-huh. Yup. All we can do is exactly that.
Which means you'll require a trusted recipe and expert instructions on how to make those buttered popcorn martinis, presuming you don't already make all your classic cocktails with popular movie theater snacks.
That's where Johnny Swet comes in. He's the co-owner of JIMMY at the James, a swanky, '70s-inspired lounge on the 18th floor of the James Hotel in SoHo—and, as you can imagine, he's mixed more than a few remarkable drinks in his day.
Admittedly, I was a bit skeptical about the drinkability of a buttered popcorn martini. It sounds...kind of gross. But Swet offered some kind words of encouragement.
"It's a fairly simple recipe that involves fat-washing, a great technique that adds a subtle after-taste to any spirit," he explained. "The final product is a great martini that just happens to have the after-taste of buttery movie popcorn."
Happy Oscars.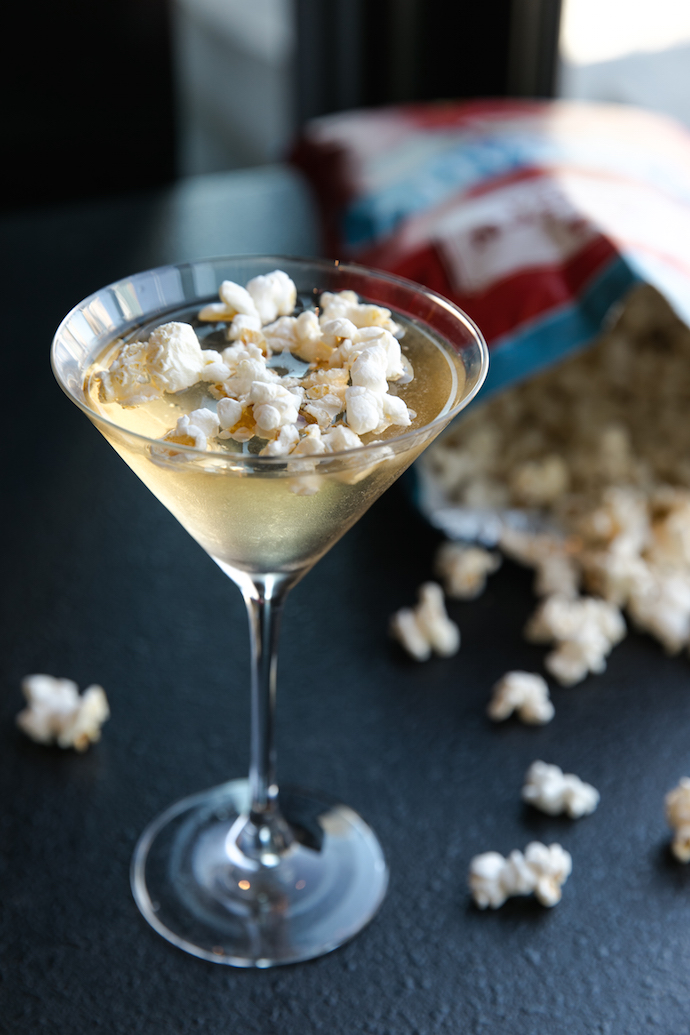 The Buttered Popcorn Martini
3 oz fat-washed buttered popcorn Tito's vodka*
Ice
Fresh-popped popcorn for garnish
Pour the vodka into a chilled cocktail shaker filled with ice cubes. Shake at least 10 seconds, or until cold. Strain into a martini glass and garnish with freshly popped popcorn.
*Fat-Washed Buttered Popcorn Tito's Vodka
1 cup of popped popcorn
1/4 cup of melted butter
Approximately a quart of Tito's vodka

Place the popcorn and the melted butter in a plastic quart container, then fill it with Tito's vodka. Close the container and shake hard. Let it sit for six hours, agitating it every hour. Then turn the container upside down and put it in the freezer overnight. Strain the vodka through coffee filters into a clean container and refrigerate until you're ready to use.
[Ed. Note: We know what you're thinking: where's the vermouth? Well...that's what the buttered popcorn's for.]