Chef Eric Greenspan is one of Los Angeles's foremost experts on the kind of highly caloric, incredibly indulgent food you crave on gamedays (or mornings-after-drinking-heavily). On his virtual (delivery-only) food court, Alt Grub Faction, he makes NYC bodega-style breakfast sandwiches. He makes orange chicken burritos. He makes pickle-brined fried chicken sandwiches slathered in bourbon mustard. He also happens to be the author of The Great Grilled Cheese Book, which...is exactly what it sounds like.
Since you have some very important football to watch this weekend, we thought we'd ask Greenspan to share one of his favorite big-game recipes. Graciously, he obliged.
As a result, you're making his spicy garlic wings topped with a kind of carrot-celery slaw, served alongside a special blue cheese dip.
Sorry we're not sorry.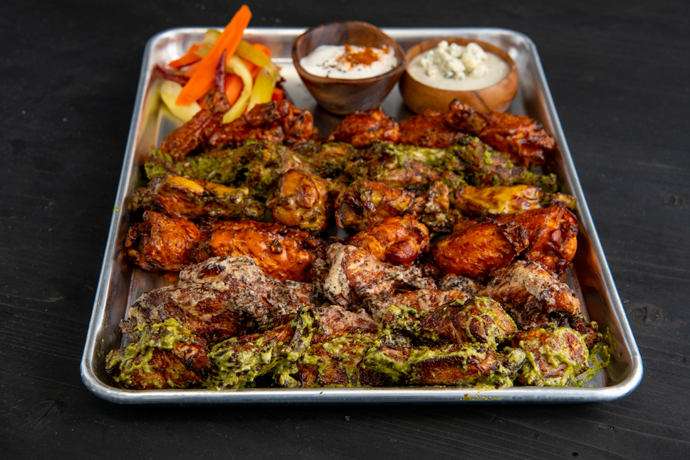 Chef Greenspan's Spicy Garlic Wings (serves four)
The Wings
2 pounds of a combination of chicken wings, drumettes and flats
1 cup vinegar
1 cup salt
½ cup sugar
¼ cup chili de arbol
In a large sauce pot, add the wings, sugar, salt, chili and vinegar. Cover with water, and bring to a boil. Strain the wings and pat dry. Roast in a 300-degree oven for 30 minutes to dry out the wings. Then deep fry crispy (or, if you don't have a deep fryer: bake the wings at 450 degrees until they're caramelized and crisp; they're already cooked through from the speed brine.)
The Sauce
1 cup peeled garlic
1 cup olive oil
2 cups Frank's Red Hot sauce
In a medium sauce pot, cover the garlic with olive oil and simmer until tender. Blend smooth and add the hot sauce. Blend smooth and add water until proper viscosity is reached. Pour over wings and toss.
The Chow-Chow
2 carrots, peeled and sliced thin on a bias
3 stalks of celery, sliced thin on a bias
1 cup vinegar
1 tbls salt
1 tbls sugar
In a small sauce pot, cover the celery and carrots in vinegar and add the sugar and salt. Bring to a boil, then let cool. Strain and garnish the wings with pickled vegetables.
The Dip
1 cup crumbled Maytag blue cheese
½ cup greek yogurt
½ cup mayo
1 tsp cracked black pepper
1 tsp celery salt
In a food processor, combine all ingredients for the dip and blend until smooth.