You know Shinola, the Detroit-based brand famous for their homespun, warmly sophisticated...everything.
There are the handsome watches, of course. And the sleek turntables. And the dapper leather briefcases. And the classic bicycles. And the artist-designed surfboards (yes, the artist-designed surfboards).
And now, finally, there's this: the Shinola Hotel. It's open now in downtown Detroit's historic Woodward Avenue shopping district, and it's pretty much like stepping inside a three-dimensional Shinola Pinterest page, with the necessary additions of comfy 300-thread count beds, Michigan craft beer and wood-fired Osso Bucco. You can make reservations here, for whenever you well please.
Given Shinola's undying affection for Detroit, it's no surprise they've decided to set up in the heart of the city. They've even taken it upon themselves to restore two historic buildings in the process—the 1915 T.B. Rayl Co. store, designed by one of Detroit's most prolific architects, and the adjacent Singer Building, a neoclassical wonder that housed the eponymous sewing company back in 1936.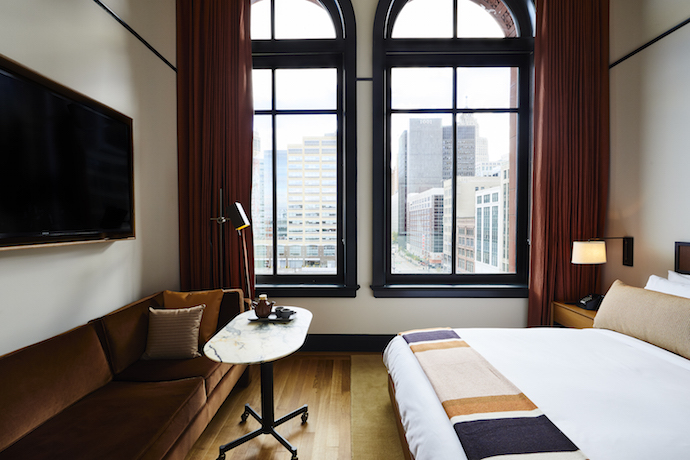 As you may've deduced from the previous paragraph...no, this is not some tiny boutique hotel. It's home to 129 guest rooms, comprised of 50 different configurations, including the Penthouse suite, with a gas fireplace and private terrace, and the Canfield, with east-facing atelier windows and a separate dining room. You know, for dining.
Regardless of where you sleep, you can rest assured it will be inside a kind of mid-century modern paradise, featuring striped alpaca throws, marbleized wallpaper designed to mimic the marble found in the Rayl building and bathroom fixtures inspired by the caseback details of Shinola's timepieces. Also: if you don't spy a Shinola bluetooth speaker, it probably just means there's a Shinola turntable and curated vinyl library at your disposal. We can only presume it draws heavily on Motown.
Once downstairs, you'll find walls covered in an eclectic mix of artwork. You'll find enthralling, floor-to-ceiling woven panels at reception, created by Detroit artist Margo Wolowiec. You'll find some nice places to sit and scroll through Instagram while you wait, inevitably, for your companion to come down for dinner.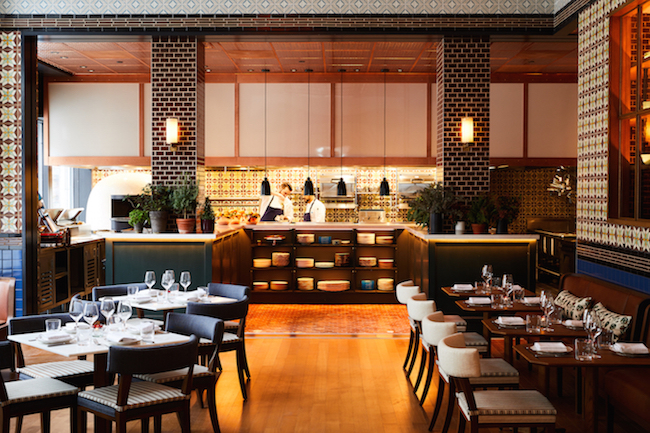 Speaking of which: we should probably mention that New York's esteemed NoHo Hospitality is handling the food here. San Morello, the Southern Italian restaurant, where you'll split black truffle pizzas and down Boulevardiers 'til close, is the only spot that's currently open. It should more-than-do until spring, when Penny Red's (a fried chicken and honey biscuit joint) and the Brakeman (an American beer hall) start tempting you with tantalizing wafts of buttermilk and...well, the notion of American beer.
It's a powerful notion.