But what if you could distill the essence of Thanksgiving and the holiday season beyond—minus the occasional familial tension—into one delicious batch of punch for your entire party to enjoy?
It's a big, important, not-all-that-important question. And one we turned to Will Duncan—the founding barkeep at Chicago's premiere '70s-inspired subterranean punch bar, known, simply, as Punch House—to answer.
The result: this exclusive holiday punch recipe, featuring a complex yet drinkable profile of tart fruit flavors, underlying notes of festive spices and a burst of citrus.
Says Duncan: "While developing this recipe, I drew inspiration from iconic holiday foods and flavors—things like candy canes, cranberries and nostalgic holiday desserts like pumpkin pie. These ideas are echoed in the spiced peppermint tea with ginger, allspice, and cinnamon, as well as the 'cranberry sauce.' The celebratory identity of sparkling wine evokes the holiday spirit for me as well."
To be entirely frank, this is not the simplest punch to make. It will require some effort—and if you want to do it right in time for Thanksgiving, you'll probably want to make it tomorrow and let it chill in your fridge (or even outside in the cold) for a few days. But nothing good comes easy.
And that truism especially applies to punch.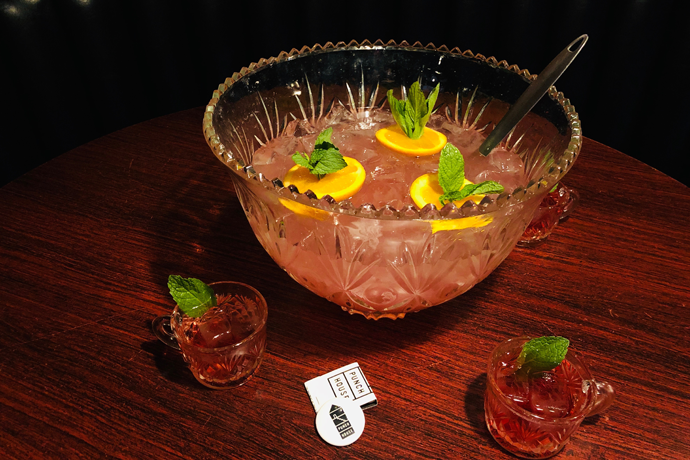 Punch House's Holiday Punch
Ingredients you'll need:
2 cups Brugal Dry Rum
½ bottle sparkling wine
1 cup Spiced Peppermint Tea*
½ cup "Cranberry Sauce"**
2 cups Ice, loosely packed
½ cup white sugar
3 lemon peels
½ cup Lemon Juice
Fresh ginger
Allspice
2 cinnamon sticks
For garnish: 3 orange slices (with a fresh mint bushel skewered through the center).
Tools you'll need:
Punch bowl
Ladle
Muddler
Strainer
Citrus juicer
Saucepan
Measuring tool
Part 1: Prepare the oleo saccharum
"Oleo saccharum" is a fancy-sounding phrase for a mixture of sugar and oils derived from the citrus of fruit rinds. It provides a bolder flavor than a simple syrup or fruit juice, and is a common component of punch recipes.
To prepare yours, combine white sugar with the three lemon peels in the bottom of a punch bowl and muddle periodically over the course of 45 minutes. The sugar should pull aromatic essential oils from the citrus peels.
Part 2: Prepare the fresh juices
While that periodic muddling is going on, you (or a family member you've enlisted as your assistant) can squeeze and fine strain the lemon juice.
*Part 3: Prepare the tea
Bring 1.5 cups of water to a boil with a slice of fresh ginger, one cinnamon stick and a pinch of ground allspice. Reduce the heat and let it simmer for ten minutes. Then remove it from the heat, add a tablespoon of mint tea and let it steep for five minutes.
**Part 4: Prepare the cranberries
Bring one cup of water to a boil with cranberries, an orange peel, one cinnamon stick, a pinch of ground allspice and half a cup of sugar. Reduce the heat and let it simmer for 10 minutes, then remove it from the heat and allow it to cool to room temperature before removing the peels and cinnamon stick.
Part 5: Build the punch
Strain the hot tea as you add it to the oleo saccharum. Stir well. Add the ice to cool the syrup, and stir until its melted. Then add the rum, the half cup of "cranberry sauce" and fresh juices. Prior to serving, add the sparkling wine and more ice. Skewer a few leaves of fresh mint through three different orange slices sprinkled with grated nutmeg and place on top, as a garnish. Serve and reap generous praise.