"Oh, that old thing? It's just my martini fountain. Hope you came thirsty."
Congratulations: this is officially a phrase you can use, give or take the "thirsty" part, once your guests mosey in and spot La Fontaine—a sleek and smartly designed orb-like centerpiece that also happens to dispense perfect martini after perfect martini. It's available now from Grey Goose at The Line. (The bad news: it'll cost you $1,500.)
The fountain was designed by a British creative agency with a thing for the Art Nouveau movement and the kind of traditional beverage dispensers that were popular around the turn of the century (think: the absinthe fountain, now back in vogue). Using some very fancy manufacturing techniques—"brass spinning"; "water jet cutting"; "laser engraving"—master craftsmen in London put it all together, the result being a piece of art that's also exceptionally equipped to serve a very specific task.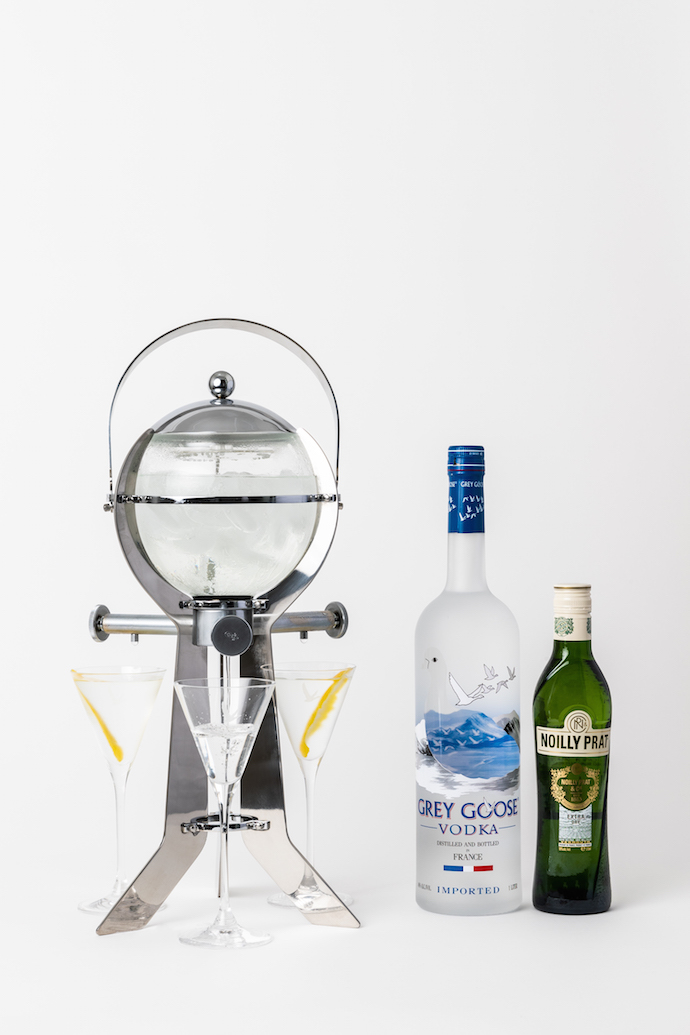 And boy, does it ever serve that task. All you have to do is add the proper proportions of vodka or gin and dry vermouth into the orb with a large cube of ice, stir well for a few minutes, prep some lemon peels and olives and, as the French say, voila: you're ready to dispense approximately 10 perfect martinis through its three different faucets. It's almost (almost) too easy.
There is some science behind this thing; it's not just an elegant way to serve martinis. The most important aspect of a martini, apart from the quality of the ingredients, is that it's properly chilled. Many people, James Bond included, assume the best way to chill their martini is to shake it with ice and strain it. But all this does is "bruise" the vodka (and you don't want to "bruise" your vodka.) The fountain eliminates this problem, because the liquid is chilled with a large ice cube—it should be at least four inches wide so that it doesn't start to melt—and stirred vigorously before its permitted to flow through the faucets and into your patiently waiting martini glass.
In the name of journalistic integrity, your humble correspondent has confirmed that the fountain does, indeed, serve an exquisite martini.
It's also quite good about refills.