You've always wanted to be one of those party hosts.
You know the kind: Dapper. Generous. Effortlessly hospitable. Capable of making a batch of just-right dirty martinis for present company...
Unfortunately, we can't help you with those first three qualities. Sorry. But we do have something for that last one. It's called Dollar Cocktail Club, and it's a new brand of easy-to-use drink-making kits from the expert barkeeps at Liquor Lab—an interactive cocktail bar in New York where you can go to learn tricks of the trade (and then drink the results). Their first offerings are available to order now à la carte, and available on a subscription basis on November 14th.
One of the dudes behind this is Freddie Sarkis, a highly respected bartender with stints at renowned cocktail spots such as Broken Shaker and Celeste. Naturally, he's ensured that the ingredients included in these cocktail kits are of only the highest quality. In fact, they're often the same ones many use to mix your exquisite, if overpriced, cocktails at actual, nice bars. For example: the olives and garnishes come from premium garnish maker, Filthy Foods, and the folks at NYC's Pouring Ribbons are responsible for helping concoct the craft syrups.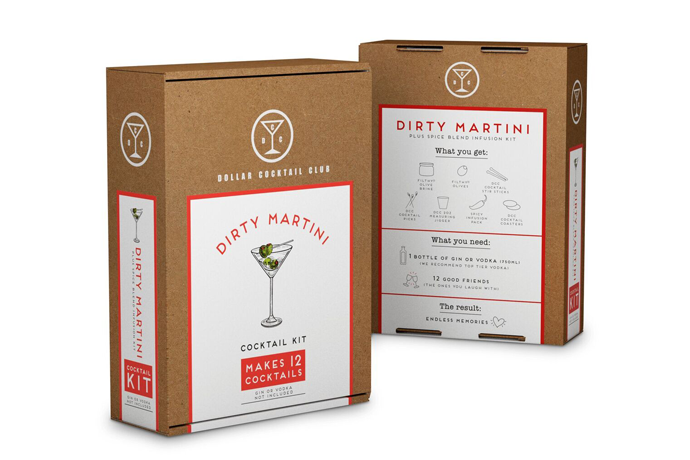 As far as other deliverable drink-making kits go, Dollar Cocktail Club is relatively affordable. Each kit makes a dozen cocktails. And while you'll have to provide the booze yourself, they'll provide everything else—precisely measured ingredients and a recipe card, plus two coasters, a stir stick, a disposable jigger and an infusion packet, in case you'd like to give your classic cocktail a little something extra. (You would.)
Both the margarita and the hot toddy (with an optional black tea infusion) will ship out on December 1st. Though you can also pre-order the mulled wine (with an optional chai spice infusion) and Old Fashioned (with an optional black tea infusion) for January 1st, as well as a dirty martini (with an optional spice infusion) or Manhattan (with an optional hibiscus infusion) for February 1st. In the near future, you can expect Moscow Mules, a honey-and-lemon libation called the Bee's Knees, classic daiquiris and party kits for cocktail-heavy holidays like the Super Bowl, the Fourth of July and...
Well, let's face it: almost all holidays are cocktail-heavy holidays.