It can be easy, amidst the rush for fall jeans and fall boots and fall other things, to overlook new iterations of a most essential accessory: the wristwatch.
That's our fault. And we sincerely apologize.
To make amends, we'd like to introduce you to the Shinola Monster Collection, the reliably handsome Detroit-based brand's special-edition series of mechanical dive watches, inspired by the natural beauty of the Great Lakes, where you won't find too many divers, but, well, what the hell—they look great.
The first version of this watch, the Lake Eerie Monster, was actually released last year, and represented the company's first foray into automatic watches. Naturally, given their pedigree, commitment to craftsmanship, etc., it proved a big success. Now, they're presenting you with three more options. How good of them.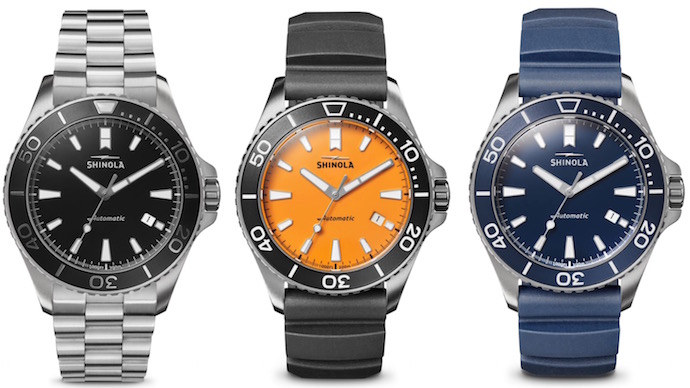 Design-wise, each piece reflects the Great Lake for which it's named. To pay homage to northern Michigan's stunning sunsets over the shoreline, the Lake Huron boasts an orange dial, a black bezel and a black rubber strap. To capture the essence of the Northern Lights, the Lake Superior's indices give off a green glow against a black dial, a black bezel and a steel bracelet. To approximate the indelible color of the cool water, the Lake Michigan features a midnight blue dial and bezel. So you see what they're going for.
Beyond these individual aspects, all three watches are crafted from stainless steel, with unidirectional bezels and Super Luminova indices for maximum visibility. Though the watch is assembled in Detroit, the automatic movement is manufactured in Switzerland, because, Switzerland. And should you legitimately want to use these for diving, rest assured, they're rated for depths up to 1000 feet.
The Lake Superior Shinola Monster is available now for $1,450. The other two will go on sale October 22nd, for $1250.