During a recent trip to Mexico, Lucien Conner, the bartender at Puesto, in California, found himself at a little out-of-the-way beach spot on the southern coast of Oaxaca. Fresh seafood was plucked from the shore and laid out in front of him; hungry neighborhood cats were insistently shooed away. And groups of waiters, he noticed, concocted an interesting creation from the snook they caught on the beach: a refreshing ceviche, which they later heaped over ice cold beers.
From this awe-inspiring scene, Conner developed a ceviche-topped beer recipe of his own, marrying the no-frills approach of the camareros with something a bit more palatable (and Insta-worthy) to the American drinker.
If you're thinking "raw fish and beer...gross combo," don't worry: the ceviche merely lends its citrusy, tiger-milk-y juices to the beer, creating what one may consider an Oaxacan-style iteration on the standard michelada. Below, we've included the recipe, both for the drink and Puesto's ceviche. It is a) not as hard as you think to make ceviche; and b) going to be totally worth it to see the look on your guests' faces during your final summer blowout.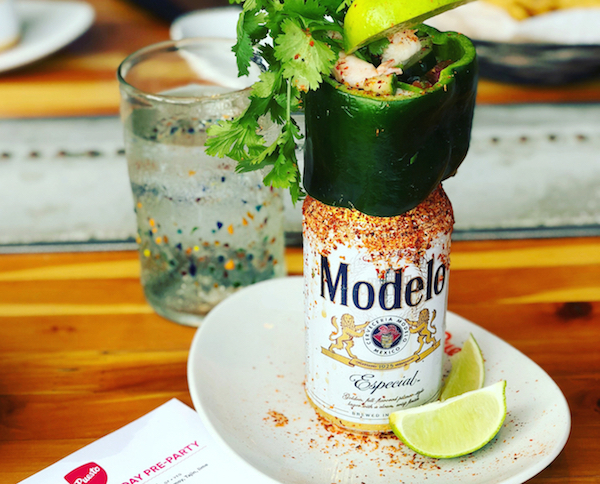 Puesto's Ceviche-Topped Beer
1 Mexican beer (Modelo is recommended)
Tajin seasoning
A poblano (or bell pepper)
Puesto's Ceviche Acpulco*
Coat the top rim of the Modelo with Tajin seasoning (either shaking the Tajin directly onto the can, or putting Tajin in a bowl and rolling the can in that); cut off the top and bottom of a poblano (or bell) pepper and place it atop a cracked-open can of beeer; fill the pepper with Puesto's Ceviche Acapulco; garnish the ceviche cup with lime wedges, cilantro & more Tajin; push a straw through the ceviche and into the beer.
*Puesto's Ceviche Acapulco
What You Need
-3 ¼ cups Fresh Squeezed Lime Juice
-1 lb. sashimi-grade fish (Recommended: Baja striped bass)
-3 Roma Tomatoes
-½ Red Onion
-1-2 Serrano chiles
-1 Avocado
-1 Radish
-½ teaspoon Mexican Oregano
-Good Quality Olive Oil
How to Make It
1. Use a sharp knife to cut the fish into ½ inch cubes. Place fish in a glass bowl. Cover with 3 cups of the lime juice (save the .25 cups for later). Add 1 teaspoon of kosher salt. Cover with plastic wrap. Place in the refrigerator and set a timer for 30 minutes.
2. While the ceviche is "cooking" chop up your vegetables; cut and dice tomatoes into ¼ inch cubes. Dice an onion into ¼ inch cubes as well. Place in a strainer and rinse under cold water. Shake and drain well. Mince the Serrano chiles as fine as you can. Using a mandolin or working carefully with a sharp knife, thinly slice the radish.
3. Once the fish is finished "cooking," drain the lime juice. Add tomatoes, rinsed onions, Serrano chiles, the remaining 1/4 cups of lime juice and Mexican Oregano to your fish bowl. Toss gently to combine. Taste and add additional salt to taste.
4. Empty ceviche onto a large platter. Use your hands to create a well in the center of the plate (or keep it in a mound if you like).
5. Dot the ceviche with diced avocado and sprinkle with a generous drizzle of olive oil.