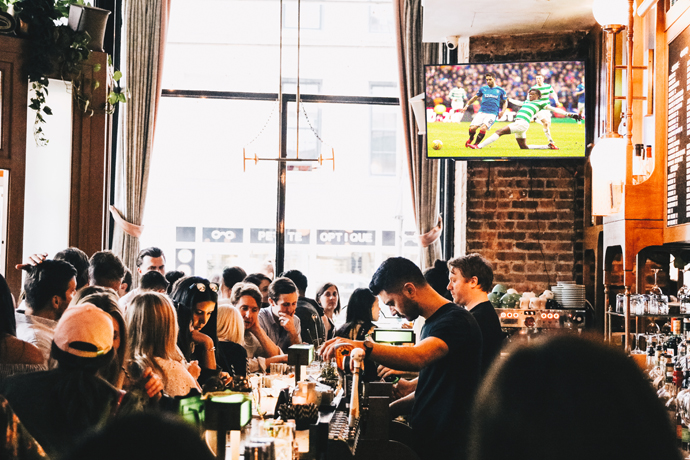 The World Cup is upon us. So we figure at some point over the next month you may be in need of a place to go that's a step above your corner sports bar.
Like, say, a really nice corner sports bar.
Or a massive Brooklyn brewery that just so happens to be showing the games on seven screens.
Or an attractive AF downtown rooftop for you to gaze at the sunset when you're not watching Brazil and Germany go at it.
Or a... hell, just have a look below, where we've curated seven choice establishments to watch soccer this summer.
You're most welcome.
You Require: A 6,000 square-foot space with a killer beer program and pizzas topped with truffle béchamel and served with pork jus dipping sauce. Snacks are important to you.
You'll Receive: All of the above, plus the games screened on three huge projection screens and four TVs throughout the brewery.
Circa Brewing Co., 141 Lawrence St (between Fulton and Willoughby), 718-858-0055
You Require: A legitimate soccer bar with an impressive tap list.
You'll Receive: This soccer-obsessed bar in Williamsburg might be the move for any die-hard fútbol fans. Not surprisingly, they'll be screening literally all of the games—while offering beer and food specials, trivia and jersey giveaways.
Banter, 132 Havemeyer St (at S 1st)
You Require: Watermelon margaritas and a damn good view.
You'll Receive: The rooftop bar at Chinatown's 50 Bowery, where they'll have the games on three flat screens, $10 watermelon margaritas and international beers to represent the countries competing.
The Crown at 50 Bowery, 50 Bowery (between Bayard St and Canal St), 646-630-8057
You Require: Tons of whiskey options and the potential for a free Euro trip.
You'll Receive: This West Village gem, with over a hundred whiskies and an incredibly ideal U-shaped leather booth for you and nine of your closest friends to enjoy them in. Oh, and they've partnered with Bitburger to give away a trip for two to Germany over the course of the tournament.
The Spaniard, 190 W 4th St (at Barrow), 212-918-1986
You Require: Something a bit more elevated than your usual bar snacks.
You'll Receive: First of all, everyone gets a beer here when Spain wins. So that's ideal. And second of all, you're working with a more-than-decent list of Spanish tapas and seafood paella fit for a group.
Boqueria, all locations
You Require: An old-school gastropub with drink specials.
You'll Receive: The tried and true Boulton & Watt, where they'll be screening most games (...just not on weekends), and giving away free beer to those who can show a passport for a competing country.
Boulton & Watt, 5 Avenue A (between E 1st & E 2nd), 646-490-6004
You Require: Themed sustenance while you cheer your team on.
You'll Receive: Just that. Starting tomorrow, when they'll be serving pintxos and pasteis de nata during the Spain-Portugal game, and Kimchi Jigae and Pozole during the Korea-Mexico match.
The Breslin, 16 W 29th St (between 5th Ave & Broadway)