The worlds of Cinco de Mayo and the Kentucky Derby are colliding tomorrow in real life and also in one exorbitant drink. Mingling the blue agave-centered elements of Cinco de Mayo with the bourbon-y horseracing shenanigans of the derby comes the Agave Julep, a $1,500 cocktail created by bartender Agustin Sosa and currently being served through Sunday at Louisville's Brown Hotel.
Now we know you might not have a bottle of Old Rip Van Winkle 25-year bourbon at your disposal. Or a $7,500 bottle of Patrón en Lalique. And if you do, you may not be sold on unloading them into a mixed drink for your friends to watch a two-minute horse show.
So we give you full permission to make this thing with whatever you have laying around. Even if your mint is not of the Kentucky colonel variety.
And we're including three more Cinco de Derby drinks down here, including a Rye-garita, as a bonus.
Keep up the good work around here.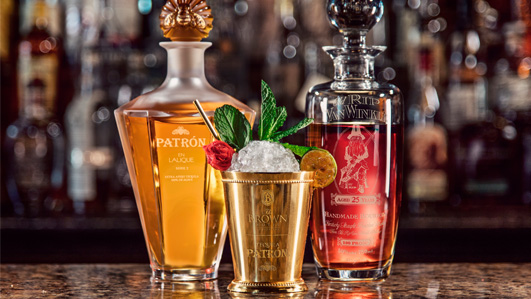 Agave Julep
2 oz Patrón en Lalique: Serie 2
½ oz Old Rip Van Winkle 25-year-old bourbon
Bouquet of chocolate mint
Bouquet of Kentucky Colonel mint, for garnish
3 drops chocolate bitters
2 key limes
2 teaspoons demerara sugar
Ice
Place about 15 chocolate mint leaves in the julep cup. Pull the caramel from the key limes using a knife, caramel should come up as a circle. While cutting the caramel off the lime, let the juice from the lime drip into the julep cup. Place 4 pieces of the caramel inside the julep cup (keep one for garnish). Add a dash of water to the julep cup and gently press the mint with the muddler into the caramel allowing the mint to release it oils.
Stir with a spoon until the caramel dissolves. Pour the 2 ounces of the Patrón en Lalique: Serie 2 and the ½ ounce of Old Rip Van Winkle into the julep cup. Stir again. Crush the ice in a Lewis Bag. Fill the cup with the crushed ice. Stir until the cup freezes and refill with crushed ice as necessary. Garnish cocktail with a nice bouquet of Kentucky Colonel mint and the remaining slice of key lime with caramel. Pour the 3 drops of chocolate bitters on top of the crushed ice. Place a straw in between the mint bouquet, (the bouquet and the straw should be almost the same size, so when you drink the Agave Julep you can smell the mint).
**A portion of the proceeds of each cocktail sold will be donated to the Kentucky Humane Society's (KHS) Equine C.A.R.E.(connect, assist, rescue, educate) Program. The program is dedicated to helping companion or recreational horse find relief and rescue from crisis situations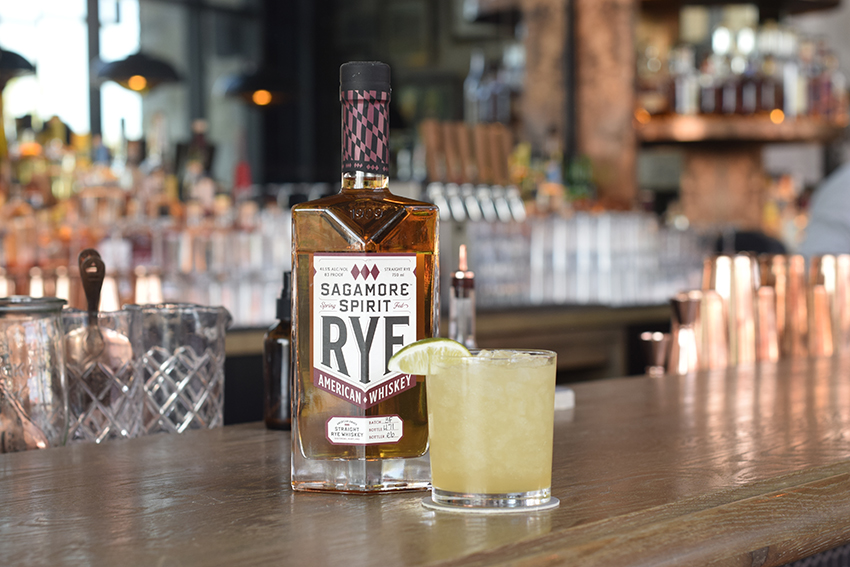 Sagamore Spirit Ryegarita
1 oz Sagamore Spirit Rye Whiskey
1 oz Triple Sec
1 oz Lime Juice
½ oz Agave Nectar
Crushed Ice
Sliced Jalapeno with or without seeds to taste. Lime for garnish. Combine all ingredients in shaker. Strain into rocks glass over crushed ice. Garnish with lime or sliced jalapeno, depending on heat tolerance.
Black and Blue
Created by Niccole Trzaska, Drinks by Niccole
½ parts Tres Agave Blanco Tequila
5 ripe large blackberries
10 mint leaves (Muddled)
¾ parts dark brown sugar simple syrup
¾ parts fresh lime juice
In a cocktail shaker add mint, black berries and Sugar syrup ingredients and muddle until liquified. Add all ingredients and ice, shake vigorously. Double strain over crushed ice and serve in a tall or fluted glass, garnish with a mint Sprig and a Few Blackberries.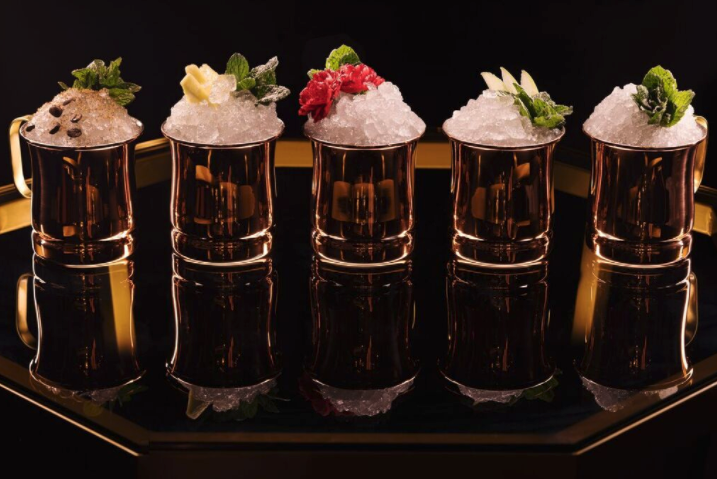 Banco De Mexico
from the Secret Julep Menu at Rosina, at the Palazzo, Las Vegas
.5 oz. Crème de Cacao
.5 oz. Mezcal
1.5 oz. of Altos Añejo Tequila
Stir and top w/ crushed ice. Garnish w/ fresh mint & flower. Press fresh mint against copper mug to release flavor/taste. Spray w/ rose water mist & sprinkle w/ powdered sugar.