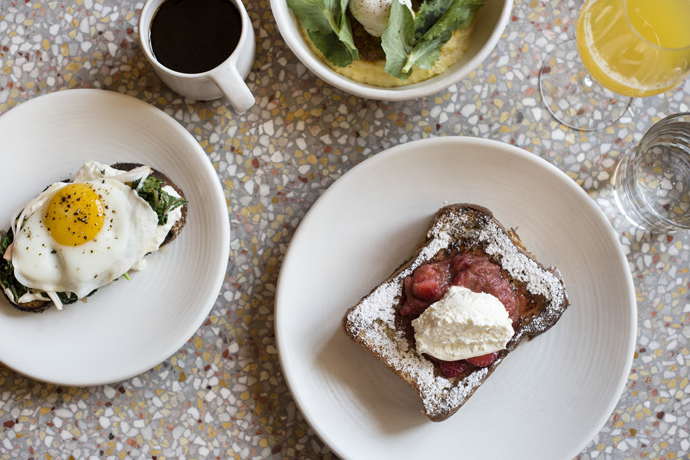 If you're craving Italian dishes topped with eggs...
Head to Fausto, the chic spot from L'Artusi alums that took over the old Franny's space last December. On the menu: strawberry-rhubarb French toast with mascarpone; black-pepper tajarin with pancetta, ramps, and egg; and some next-level breakfast sandwiches with sausage, Fontina and ramp pesto on fresh ciabatta.
Cocktail-wise, they've got Bloodys with calabrian chili—but we might suggest trying the Caffe Aspetta, with coffee, rye, meletti anisette and cream.
Starting May 5, Fausto, 348 Flatbush Ave (at Sterling Pl), 917-909-1427
If you're more in the mood for Indian dishes topped with eggs...
Get over to Floyd Cardoz' Bombay Bread Bar for fried egg-topped bacon-cheese naan; chicken tikka wraps with egg roti, pickled onion and slaw; and rice dosa with eggs, chili and garlic chutney.
Starting May 6, The Bombay Bread Bar, 195 Spring St (at Sullivan), 212-235-1098