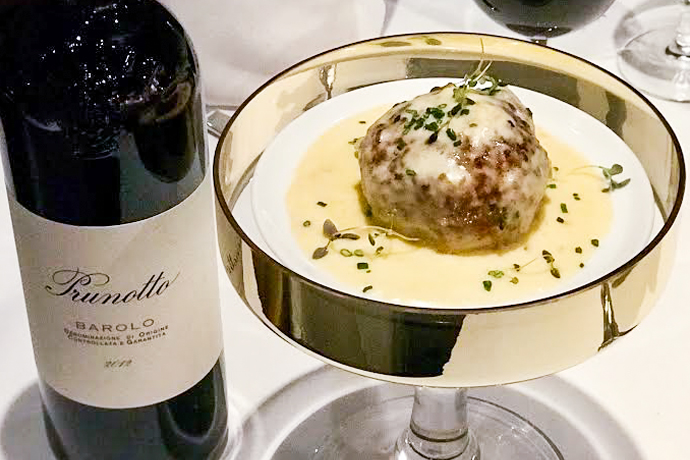 Every so often something so important, so significant, so life-altering crosses our desks that we have to interrupt our normally scheduled programming to talk about it.
...Like this $100 meatball, for instance.
Behold Davio's Steakhouse's hundred dollar meatball—a dish so lavish, so extravagant, so completely over the top that you've actually got to have it, maybe. It's available now through 10pm tonight, in honor of it being National Meatball Day: a holiday we, personally, wait all year for.
But before you run off to Midtown with a fork in your hand, have a good long gaze at this spherical construction of meat. Go ahead, take it all in. The creamy shallot-champagne sauce. The promising wagyu beef exterior. The molten center of truffle caciocavallo cheese and foie gras you now know are waiting for you inside of it.
And then they placed this bottle of 2012 Prunotto Barolo beside it, the thoughtful bastards.
It'll cost you a Benjamin, but if you think about it, this may be your only opportunity this year to drop a Benjamin on a meatball, bragging rights and choice Instagram opportunity.
On second thought, maybe don't think about this too much.
Mar 9, 11:30am—10pm, $100, Davio's Northern Italian Steakhouse, 447 Lexington Ave (between E 44th and E 45th), 212-661-4810