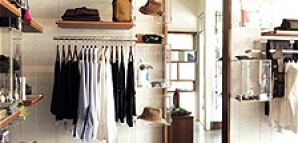 When you start blogging with the world about what you should carry in your new store, strange things happen.

Ask Alessandro Tomassetti, owner of new clothing store All Purpose. While preparing for the store opening, Tomassetti started a blog to keep friends and family updated on progress, and oddly enough, began receiving suggestions from France, Tokyo and (of course) Kansas on what to carry in his store.

Hence a gem of a spot nestled on a side street just north of LA's trendy West 3rd Street. Polished concrete floors and customized wood cabinetry house a variety of wares from all over the world—from beautifully tailored handmade wool Italian sweaters to one of a kind fedoras for old-school nights out. Snag some Spanish hard candies while you're there, which are custom-designed to match the color of the store's interior (proving there are no limits to color coordination if you have too much time on your hands).

Be sure to check out the display case up front that houses some of the most unique items: A bulletproof Kevlar rose-shaped lapel pin (a little protection never hurt anyone) or a solid gold Playboy swizzle stick are a good place to start.

Small world indeed.