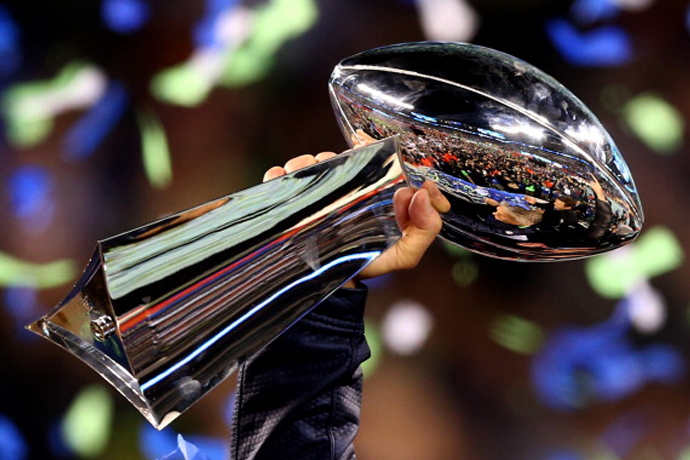 Team Eagles.
Team Pats.
Team Commericals.
Whatever your reason for watching the big game on Sunday, several things are musts:
There must be things to eat. Wonderful things you most likely won't find in your own kitchen. There must be things to drink. We're thinking the more the merrier for this particular occasion. And there must be a place to watch it.
In a bowling alley. In a megaclub. On a rooftop with sweeping views of Brickell. Places like that.
Correction: places like these...
The Poolside Tailgate
South Beach's version of tailgating involves gathering around the pool at the Confidante and eating tuna poke bowls from the Backyard and oysters from Bird and Bone Bar. Like other tailgates, you'll still find draft beer, wine by the glass and speciality cocktails, all at half-off. That's most tailgates, right? Feb 4, 4-11pm, no cover, Confidante, 4041 Collins Ave, Miami Beach, 305-424-1234
The Megaclub With Massive Sound and Visuals
Knowing how good the music at 11 sounds, imagine those same speakers cranking out the biggest game of the year. On 50 TVs, nonetheless, as well as on a 30-foot LED screen. Toss in four hours of open bar, gratis barbecue chicken, ribs and potato salad and... well, your home system never stood a chance. Feb 4, 5:30pm, $30-$50, E11even, 29 NE 11th St, 305-829-2911, tickets here
The Party With a View
You'll watch the Super Bowl and its long-awaited commercials on a 16-foot floating screen inside Atton's infinity pool, while catching sweeping glimpses of Brickell from the building's rooftop. Oh, and there will also be gratis beer should you still need more convincing. You didn't, but there you go anyway. Feb 4, 6:30-11pm, no cover, Atton Brickell, 1500 SW 1st Ave, 786-600-2600
The New Wynwood Spot
Here's a place you've never seen the big game at, mainly because Racket wasn't here before. Watch it on eight screens in the middle of Wynwood at the indoor/outdoor spot. Find Biscayne Bay Brewing Company's latest beer. Eat truffle grilled cheese finger sandwiches. Come to the beautiful realization that new experiences add up quickly. Feb 4, 6:30pm-3am, no cover, Racket, 150 NW 24th St, 786-637-2987, RSVP here
The Club That Happens to Have Bowling
Bowling while you watch the game. That'll be a thing at Basement's Super Bowl party, which will have specials on anything from open bars to wings to beer buckets. Oh, and the game will be projected above the DJ booth. Can't forget the game. Feb 4, 5pm, no cover ($75 at door for open bar), Basement at Edition, 2901 Collins Ave, Miami Beach, 786-257-4548, RSVP here
The One on the Water
A waterfront viewing of Pats vs Eagles with buckets of rosé almost sounds too cute to be a Super Bowl party. But, indeed, it's happening at Mondrian, which makes it a viable date option. Maybe make it a 54th date. Feb 4, 5:45pm, no cover, Mondrian, 1100 West Ave, Miami Beach, 305-514-1500