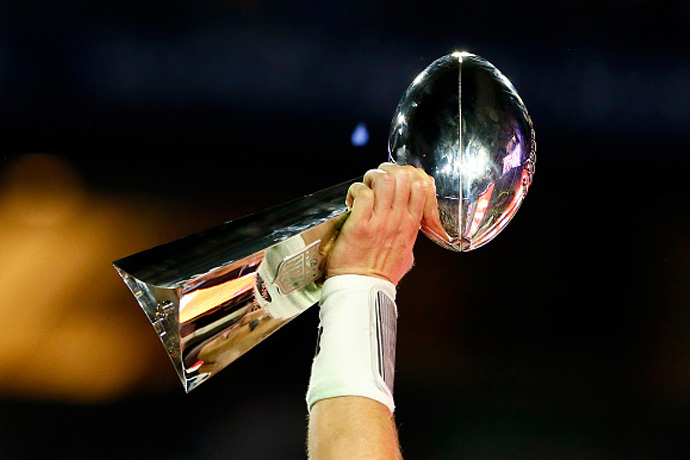 Well, despite the fact that neither of the Bay Area teams made it to the Super Bowl, you can still console yourself by watching the Pats, right?
Kidding. Very kidding.
But since you will be watching, no matter the teams, we've gone ahead and hand-picked the best 50-foot-screen-, exclusive wing-, drag queen-commentary-involving ways for you to watch the game.
It might be a weird Sunday...
The 50-Foot Screen
Play games while watching the game at Emporium's Super Bowl party that just so happens to coincide with their grand opening weekend. What that means for you: lots of new arcade games to check out on their four floors while the game projects on that 50-foot movie screen and two 20-foot projector screens. In case you miss the first one. Feb 4, 1-11pm, no cover, Emporium, 616 Divisadero St, RSVP here
The Patio Party
Since our three weeks of winter are over, enjoy the summer weather on Palm House's patio while watching the game and taking advantage of 50-cent wings, boilermakers and "Super Bowl" punch bowls. No, you don't get a Vince Lombardi Trophy for finishing one. Feb 4, 2-9pm, no cover, Super Bowl Party at Palm House, 2032 Union St, 415-400-4355
The Drag and Dip
The Oasis nightclub is opening at 2:30 for a viewing of "the straight version of the Oscars" hosted with, we're assuming, biting commentary by drag queen Sue Casa. And there's a rooftop deck to escape to should the need arise. The need might arise. Feb 4, 2:30-7pm, no cover, Oasis, 298 11th St, RSVP here
The Tee-Off
Celebrate the big game by playing the only sport that even comes close to football in terms of physical demand and athletic prowess: golf. Right. Anyway, HMB Golf Links will be hosting two shotgun tee times with gratis breakfast, followed by a no-host tailgate and BBQ to watch the game. Feb 4, 8am and 9am, $125, Half Moon Bay Golf Links, 2 Miramontes Pt Rd, Half Moon Bay, 650-726-1800 for reservations
The Theatrical Release
You know it. We know it. The game was meant to be watched the exact same way as a movie screening in the old-school Balboa theater. So that's happening. Grab some beer and popcorn at concessions, then settle into your seats for the best football movie this side of Rudy. No, you can't sneak wings in. Feb 4, 2:30-6:30pm, no cover (first come, first admitted), Super Bowl LII at Balboa Theater, 3630 Balboa St, 415-221-8184
The Wing Welcome
For the Super Bowl and for the Super Bowl only, 4505 Burgers & BBQ is serving up platters of wings, which you can either devour on their patio while watching the game, or in the safety of your home where people are (slightly) less likely to judge you for the amount of food on your face. Order by Feb 3, $16-$80, 4505 Burgers & BBQ, 705 Divisadero St, 415-231-6993 to order