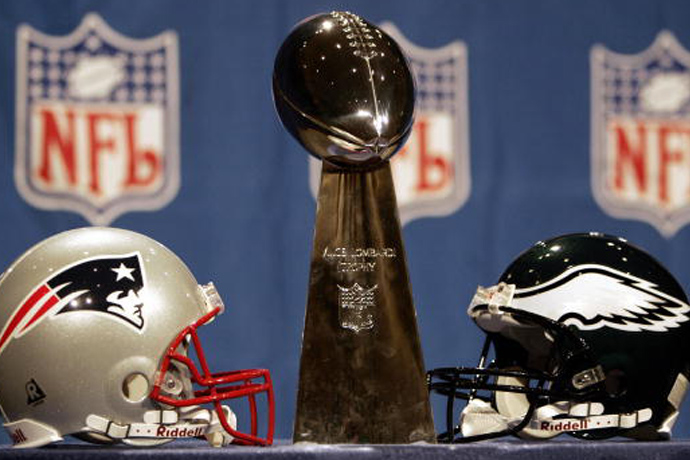 How 'bout them Pats?
Yeah, that's what we thought.
But regardless of your feelings about this year's Super Bowl matchup, there's no denying that it's the perfect day to celebrate that other famous pastime of basically eating and drinking the world.
So here it is: a shortlist of fine local establishments with all the beer-soaked, sauce-covered, wrestling-filled Super Bowl options your heart desires.
Go long...
The Old Sport
Channel the good old days when bocce was king, beer was endless and the Bears weren't an embarrassment. The Game Room at Chicago Athletic Association Hotel will have those first two things in ample supply come Sunday. Bring a few friends to the historic bar for snacks and the game fueled by Dovetail's Pilsner. And commercials. Feb 4, 4pm-midnight, $50/person (four-person minimum), Game Room at Chicago Athletic Association Hotel, 12 S Michigan Ave, 312-792-3535, tickets here
The Double Header
Beer. Football. Live professional wrestling. Yes, that old scenario. Baderbräu's Super Baderbrawl starts with some full-contact combat in the middle of the brewery and ends with a showing of that other contact sport. Lucky for you, your fiercest competitor will be the buffet. Feb 4, 1:30-5pm, $20-$60, Baderbräu, 2515 S Wabash Ave, 312-890-2728, tickets here
The Meat-Eater
How about some pig skin? No, really, how about some pig skin and also some cheeks, ribs and belly while you're at it? A whole pig is yours for the picking at Frontier's Super Bowl party. And said pig service is half-off, too, which feels relevant. Feb 4, 5pm, $275, Frontier, 1072 N Milwaukee Ave, 773-772-4322, RSVP here
The Rock Show
On Sunday, Reggie's welcomes the School of Rock All-Stars to perform some classic hits. Meanwhile, an all-you-can-eat buffet will ply you with pulled pork and mac and cheese. Then, a chili cook-off will start and people will take the stage for an eating contest. Oh, and the football game is on. Feb 4, 2pm, $15 buffet, Reggie's Rock Club, 2109 S State St, 312-949-0120, RSVP here for chili cook-off or eating contest
The Secret Sauce
There's always that one friend who declares it's not a real Super Bowl party without wings. Let's call him Tim. Well, Tim, just for you, Parson's is offering its buffalo wings by the pound, plus 40-piece orders of hush puppies and cheese curd fritters, to go. Did we mention Negroni slushies? Those too, Tim. Those too. Pre-order by Feb 2 at 5 pm, prices vary, Parson's Chicken & Fish, 2952 W Armitage Ave, 773-384-3333, order here
The Pizza Party
If you've ever wanted to order a borderline-inappropriate amount of pizza and sit in front of a TV without the slightest twinge of guilt, here's your chance. Roots is offering three pizza-carryout deals, the most epic of which is dubbed the Touchdown and comes with four large pies, 48 wings, 48 mozzarella bites and 20 cake balls. Monday hates you. Feb 4, $165-$250, Roots Pizza, 1924 W Chicago Ave, 773-645-4949 and 2200 W Lawrence Ave, 773-433-5959