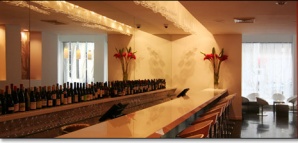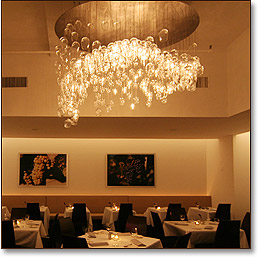 When it comes to dining on West 25th, your choices are basically between a deli and a deli with a liquor license.
As much as we love the liquor-licensed deli scene, we've decided to move on to the brand new upscale wine bar,
Varietal
, which offers 75 different wine pairings with an amazing and eclectic cuisine that beats the stuffing out of the deli (unless the deli just started serving Spanish Mackerel or Rabbit).
Kick off the night with a bottle of
Llopart Cava Rose Brut
at the bar while waiting for your table, or just grab a glass of red at the sleek adjoining social nook sporting mod white chairs and steel tables. The dining room in back is set up like an art gallery devoted to wine with oversized portraits of grape clusters, and a huge chandelier made from hanging wine glasses (please don't lie down on the floor and try to figure out how you'd drink out of it).
Take it all in while savoring small individual plates like
Grass-Fed Beef
(braised short ribs, bone marrow polenta, leeks), which come from fresh cuts of cured meat hanging in the downstairs cellar. But since the menu switches up daily depending on which cut Chef Ed Witt (Il Buco, Daniel) decides to use, don't become too fond of any one course.
Twinkies and 40s of Olde English just got a new neighbor.