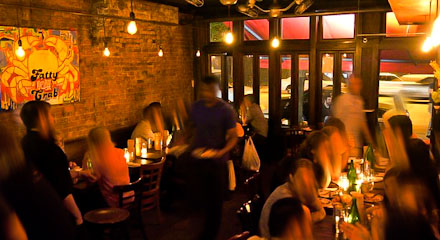 Standing out with the ease of a cold bottle of beer in a roomful of social-climbing cosmos, Fatty Crab opens tonight on the border between the West Village and Meat-Packing District.

New Concept
Chef Zak Pelaccio and owner Rick Camac of 5 Ninth introduce a new gastro-pub described as an Asian Spotted Pig. Named after one of Pelaccio's favorite restaurants outside Kuala Lumpur, Fatty Crab is small and cozy, serving up some delicious Asian street fare (you are looking at the first released picture of the spot).

Crab & Beer
The oyster omelet is amazing, and the spicy shrimp sambal wrapped in lettuce leaves is tasty. The Nasi Lemak, a chicken curry leg with coconut rice, poached egg and a smattering of Asian-style veggies is the best full plate. Of course the namesake chili crabs, flavorful and hot, are a must-try.

Also, Fatty's got what's probably now the city's largest assortment of Asian beers, from the more well known Philippine's San Miguel, Singapore's Tiger and India's Kingfisher to the lesser known varieties like Vietnam's Saigon, Sri Lanka's Lion Stout, Thailand's Singha, and Japan's Hitachino.

Get Phat
With its cheap menu and chill but lively vibe, Fatty is the perfect alternative to Ono or Vento before you head out for $15 dollar drinks and free irritation, or a quick fix for the post-club munchies (soon to be open until 4 a.m.).

Bring a date here for a pre-swank night out and she'll be impressed with your casually hip choice. It may be the only time you both will want to be in a room where everyone's getting crabs.