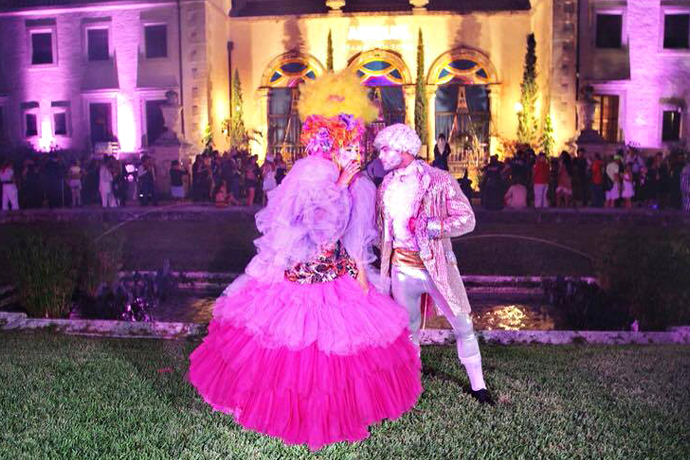 And just like that, it's almost Halloween again.
Just is.
So the way we see it, you've got precisely seven reasons to figure out how you want to handle this thing.
There will be contests. There will be palm readings high above the streets of Brickell. And there will most definitely be an open bar on the beach with a Dark Carnival theme.
Now, on to your Halloween weekend playbook...
The Beach Party
You Require: A somewhat-evil beach party, which would be a weird requirement on any other Friday night.
You'll Receive: The Dark CarnEvil-themed Nightmare on the Beach, which takes place on the sand, has DJ-spun tunes, an open bar, food from hotspots like Jack's and an afterparty happening at Ora. As afterparties tend to do.
Oct 27, 9pm-2am, $183, Lummus Park, Ocean Dr and 12th St, 305-401-3949, tickets here
The Tribute Party
You Require: A cool spot with neon art where you can pass off your robe as a Halloween costume.
You'll Receive: Dead Centerfolds, a dark homage to Hugh Hefner and his bunnies at Doheny Room. You'll sip vodka drinks, watch live performances and mingle with clothing-averse attendees. When in Halloween...
Oct 27, 10pm-close, no cover, Doheny Room at Delano, 1685 Collins Ave, Miami Beach, 786-479-8128
The Costume Contest Party
You Require: A place where the Halloween costume that you put hours into might win you things.
You'll Receive: Whether you fit in with the Mystery, Myth and Fantasy theme or go your own route, there will still be waterfront views, a moonlit sky and an open bar at Vizcaya's Annual Halloween Sundowner costume competition.
Oct 28, 8pm-midnight, $170-$3,000, Annual Halloween Sundowner at Vizcaya, 3251 S Miami Ave, 305-250-9133, tickets here
The Electronic Dance Party
You Require: An EDM bash where you can wear a mask and not be judged for doing so.
You'll Receive: A French-forward poolside party where DJ Joris Delacroix will spin until the wee hours while you dance and sip gin through a straw. Because, well... masks.
Oct 28, 8pm-midnight, no cover, National Hotel, 1677 Collins Ave, Miami Beach, 305-532-2311, RSVP here
The Party With a View
You Require: Cocktail tastings, a bird's-eye view of Brickell and palm readings between drinks.
You'll Receive: An evening atop W Miami's 50th floor, where you'll experience a virtual reality haunted house and have your future predicted via your palm, all while taking in the stunning view. And, yes, tasting cocktails.
Oct 28, 9pm-2:30am, no cover, Whisper Cocktail Lounge at W Miami, 485 Brickell Ave, 50th floor, 305-503-4417, RSVP here
The Classy Party
You Require: A living room much fancier than your own to take a date to and pose with men in lingerie, women in lingerie and probably more things involving lingerie.
You'll Receive: The Faena Horror Picture Show at the posh hotel's Living Room, where it's okay to don too much gold and sit atop leopard-print couches. Again, everything's going to be okay.
Oct 28, 9pm-close, no cover, The Living Room at Faena, 3201 Collins Ave, Miami Beach, 786-655-5600, RSVP here
The Pool Party
You Require: A drink, a sunset and a costume that floats.
You'll Receive: Sunset Funeral, the themed pool party at the Delano Beach Club where you'll sip frozen drinks, see what happens when your costume gets wet, dance until it's dry and then repeat all those things we just mentioned ad nauseum.
Oct 29, 2-11pm, no cover, Delano Beach Club at Delano, 1685 Collins Ave, Miami Beach, 305-672-2000