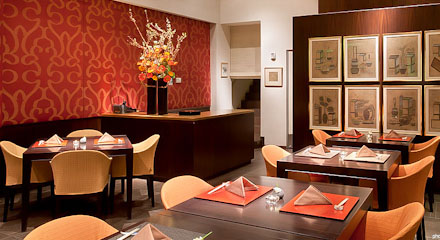 You've been thinking lately that you could use a lot more kaiseki in your life.
Lucky for you, the newly opened
Rosanjin
will provide you plenty.
Rosanjin is a loft-like box with just seven very intimate tables, and everything there operates according to kaiseki, the centuries-old style of food presentation that emphasizes harmony, simplicity, and, most of all, aesthetic perfection (which, come to think of it, is your most important priority when it comes to food). Food from the omakase-only menu is artistically plated with care, even color-coordinated with utensils and settings for fall and winter colors (it's almost like
Morimoto
meets Queer Eye for the Straight Guy).
The menu is mostly in Japanese, while the English portion consists of single Japanese words (like
Mukozuke
and
Torikuchi
), so get ready for some lost-in-translation adventures. The Kyoto-imported chef changes the menu at his whim—but because he wields a long knife and has 15 years of experience cooking kaiseki, we trust him.
A small VIP room upstairs seating 6-8 will be completed by New Year's and will offer an omakase cooked by the chef according to your budget. And don't worry about rushing on to your next destination—since kaiseki stresses savoring everything, the unobtrusive service won't be asking you anytime soon to end your zen-like intake of shochu and uni.
Inner peace is just around the corner.