Week Seven of the 2017 NFL season has officially settled in after a weekend full of mind boggling plays, absurd punts and outstanding celebration work. Each week, we'll take part in admiring these fine catches and hysterical blunders by handing out a set of accolades. Some players will undoubtedly be proud to take home the hardware, others not so much.
Most Impressive Performance: Eddie Jackson
If it weren't for the dynamic young safety, the score at the end of regulation for yesterday's Bears-Panthers matchup may have very well been a coma-inducing 3-3. Thankfully for Chicago, Jackson scooped a hysterically-botched option 75 yards to the house before taking a Cam Newton interception the exact same distance later in the game.
2nd touch for @EJackson_4,
2nd TD for @EJackson_4.#DaBears 14 | Panthers 0#CARvsCHI pic.twitter.com/QZ0v7LYjSI
— Chicago Bears (@ChicagoBears) October 22, 2017
For those who don't recall, Jackson broke his leg during his senior year at Alabama—effectively ending his college career while simultaneously plummeting his draft stock. It was heartbreaking: "Everything I worked hard for," he said at the time, "I feel like it was taken away from me."
On Sunday, he became the first player in NFL history to take two 75-yard turnovers back for a score in a 17-3 Bears win. Welcome back, Eddie "Ball Hawk" Jackson.
Least Impressive Performance: U.S. District Court Judge Katherine Polk Failla
As in the judge who was catching some sweet, tropical rays in lieu of settling Ezekiel Elliott's appeal decision this week. To be fair, I'm sure it was a well-deserved vacation booked well in advance of Elliott's suspensions. But it doesn't make America feel any less weird or disgusting while watching a potentially awful dude go for 219 yards and 3 touchdowns in a Cowboys clobbering of the Niners (more than enough fuel to power several terrible "feed me" celebrations).
Now Wait Just a Damn Minute: Vontaze Burfict
Hey, speaking of awful dudes!
Vontaze Burfict refused to shake the Steelers' hands during coin toss and then tried to kick them. pic.twitter.com/a8qoqf4Mzu
— Jordan Heck (@JordanHeckFF) October 22, 2017
This is the 3rd-grade equivalent to shooting double middle fingers at the lunch lady only to concurrently notice the school principal catch you in the act. Just point at someone else and lie like a mattress—it's not like there's going to be any video evidence for the entire web to observe and scrutinize, right?
Best End Zone Celebration: Pittsburgh Steelers
Thank goodness the Steelers skill players are dead set on shining a little bit of light into our lives every week. Sometimes a good celebration can go wrong if drawn out a little too long. Here is the exception: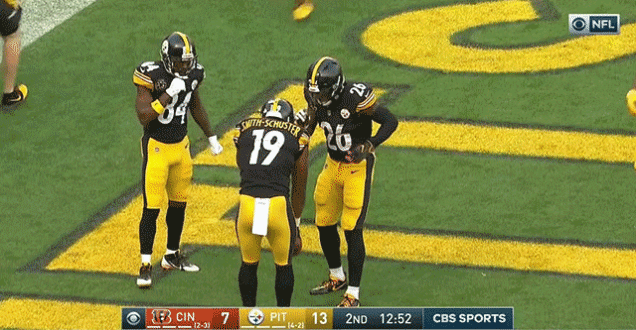 It's especially great if you keep an eye on Antonio Brown, who essentially just watches Le'Veon Bell hide before turning to Smith-Schuster like, "Yo, he's behind the goal post bro." A phenomenal performance from everyone involved.
Leg Most Deserving of Its Own Christmas Story Leg Lamp: Drew Kaser's Leg
Perhaps Sunday's most surreal version of celebratory events stemmed from Kaser's 70-yard boot from the heavens:
We got you, Pat. pic.twitter.com/YANDcZijp3
— The Checkdown (@thecheckdown) October 22, 2017
I can't even successfully land a spoonful of food into my mouth on certain days and Drew Kaser is over here hitting hole-in-ones with a football. Swing the hell out of your imaginary baseball bat, Drew—that's the greatest punt we'll see in a long time.