An eye-catching, sufficiently stocked home bar is not merely a watering hole supplicant to your every whim, it is a form of visual and sensory expression, and a point of pride for today's active drinker.
Like the devil, the difference between a gleaming oasis of alluring elixirs and a jumble of cheap bar tools is in the details. Here we'll take a look at the basic jumping off points for building a great bar at your place.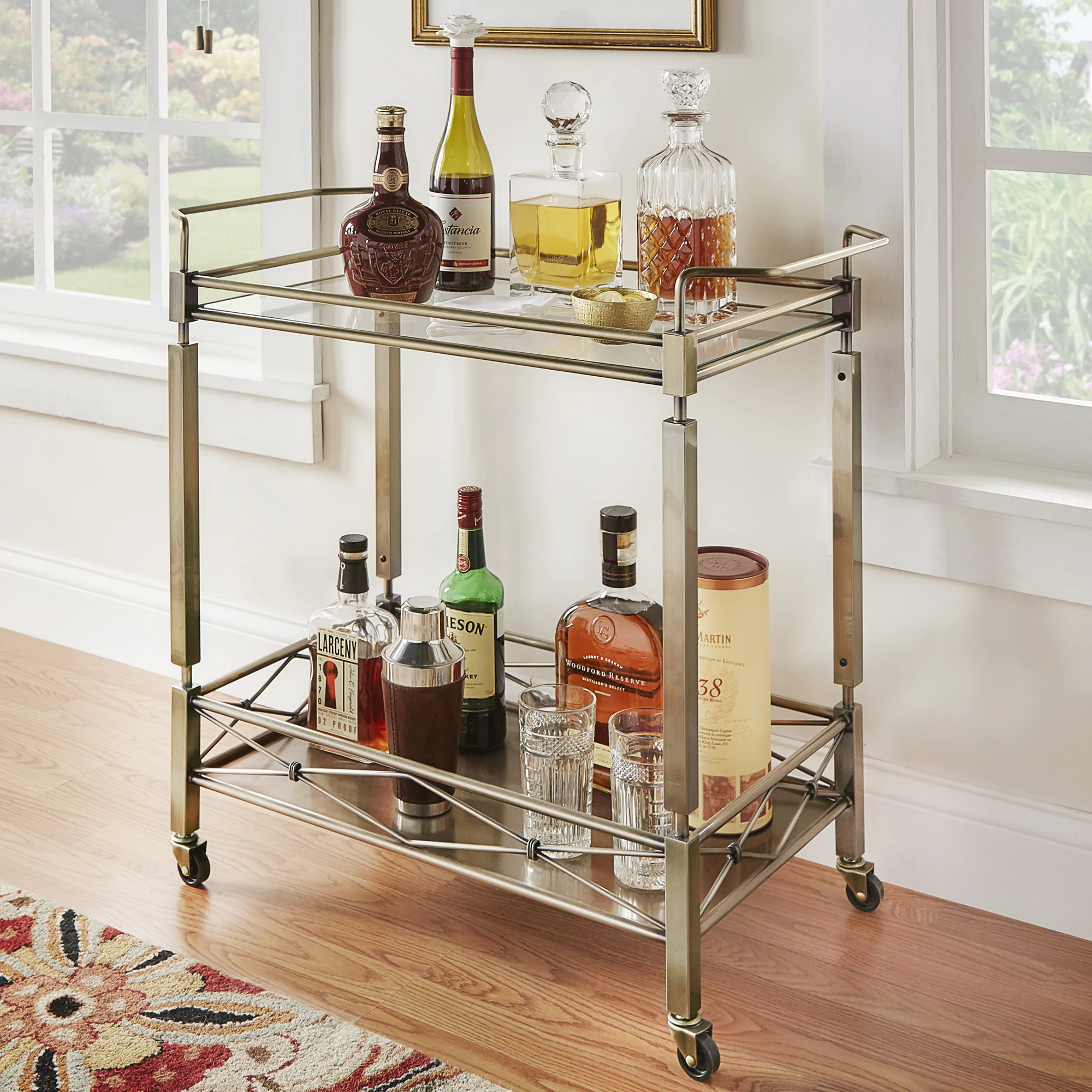 Choosing Your Bar.
Before you speed off to plunder BevMo, or a more independent spirits shop worthy of your business, let's start with the bar itself.
The first thing to consider is size. If you live in a studio apartment, there's not a lot of terrific sense in ordering a 40-foot Carrera marble slab to squeeze into the space between your sink and your counter.
Most urban mortals among us will want to consider a wheeled-bar cart that can be stashed neatly in a nook. Or a cabinet bar with a flat top and multiple shelves for storage. A handsome bar cabinet that folds out from a trunk can also be a creative and attractive way to save space.
If you do have the space, full countertops bars and stand-up home bars in the size and shape of your average dresser are available in a near-infinite range of sizes, with space for plenty of glasses, spirit and wine bottles in differing and clever configurations for the consummate host.
After deciding how much physical space alcohol deserves in your life, you'll want to consider style. Creating a home bar is really a chance to say something about yourself, your aesthetics and your aspirations, be it to potential paramours or visiting dignitaries.
While many prefer the romance of a vintage home bar, if your surroundings tend to be modern or contemporary, you may choose to have your home bar follow suit. Used and custom examples of every kind litter the online world.
At a starting level, your bar should be able to accommodate a minimum of ten-to-twelve bottles, allowing space for the major distilled spirits, along with a few essential mixers, your chosen aperitifs, digestifs, cordials, favorites and rare finds.
To really be a bar and not simply just bottle-storage, your piece should have a flat top of some sort. This is for displaying carafes, glasses, and shit you just want to show off. And space permitting, to possibly prepare ingredients, should the bar be big enough to accommodate prep and cocktail-making. If you're heavy into mixology, your bar might just be the crown holding the straight-sipping jewels of your collection, while your more mixable stuff gets stowed in cabinets.
If you're devoted to a specific spirit, you may want to build a bar explicit to that preference. Go heavy on the leather and wood for a whiskey or Scotch bar. Throw in some Christmas lights and a hula girl for a Tiki rum hotspot. Get pubby with it for a buzzing center of Pimm's Cuppery, gin and Guinness.
Coming up with the look, feel and soul of your bar is half of the fun, so let your inner Imagineer out and have a good time veering away from what the last person did.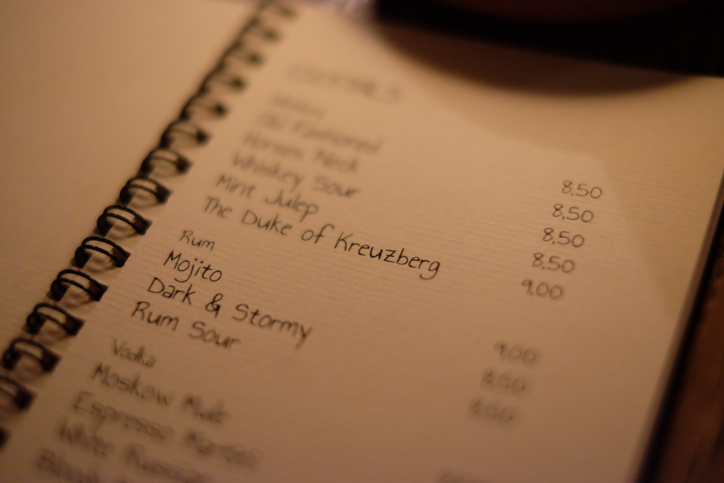 Stocking Your Bar.
Pick up a book of cocktail recipes. You'll quickly see that you need a lot of bottles of stuff to start mixing up different drinks. This one needs Crème de Pamplemousse and Luxardo. That one needs Becherovka and Ancho Reyes. It's better to acquire these things one at a time, as you set out to master distinctive recipes.
When setting up, it's best to simply stock the essentials. Start with the primary spirits you'll find playing the base of the majority of drinks you'll drink and craft. By having tequila, vodka, gin, rum and a whiskey you're not afraid to mix, you'll have most of your bases covered as you dive into entertaining. First and foremost, make sure you have the basics for your own favorites covered from the get-go.
You'll also want to make sure you have a nearby source or storage vehicle for ice, as well as Angostura and Peychaud's bitters in your bar. And it's a good idea to have Vermouth and sugar somewhere close by. If you have the funds and the space, some would argue having a brandy and cognac on hand would be convenient additions. Fruits, juices, syrups, tonics, sodas simples and other mixing components should be attained or made as you tackle each drink, allowing you to add to your fridge and keep ingredients fresh as needed.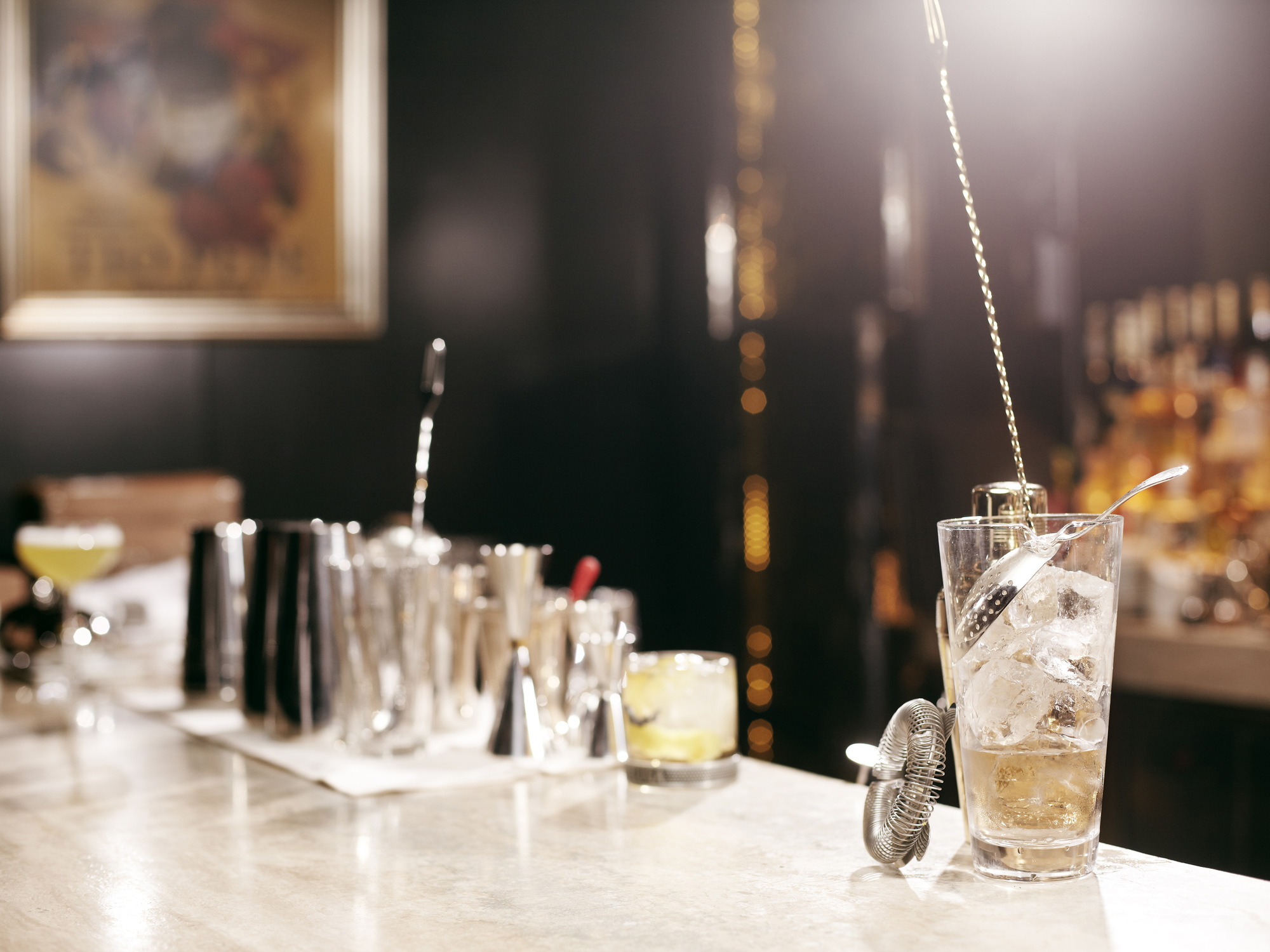 Amassing Your Tools.
There are certain things that are completely necessary if you're going to make people drinks. A well-made shaker and a couple of variant jiggers, most importantly. You should also have a cocktail strainer, as tinkering with a shaker's own jammed cap strainer can be frustrating. An elongated bar spoon, swizzle stick and muddler are also essential.
As obvious as it sounds, you'll want to have a few options of glassware to fit the kinds of drinks you're making. Impressive presentation goes a long way. Make sure you have a nice looking opener for wines, too.
Having a ketchup-sized squeeze bottle full of simple syrup stored in the fridge can really help to diversify your drink-making, as well. A peeling knife and other blade is essential for garnishes and anything else that comes up.
As for your inevitable career as a flair-home-bartender, you can sex your drinks up by learning to work with fun things like metal or vintage kitsch toothpicks for olives and other garnishes, umbrellas and colorful straws for tropical drinks, that kind of thing. Lighters for flaming peels and tasting glasses for offering samples of your greatest treasures.... there are a lot of non-essential extras to consider for style.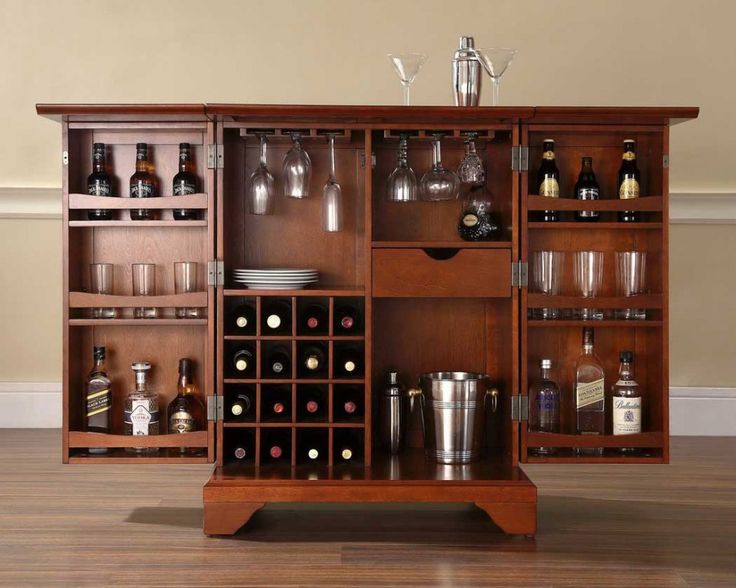 Keeping Your Bar Handsome.
Overall, the most important thing about your home bar is to keep things simple and neat. The more bottles and tools you amass, the more your bar threatens to look like a junk drawer.
Strive for understated elegance, showcasing your best carafes among just a few prized bottles on top, with your more utilitarian pieces below or in cupboards.
Consider accenting your collection with a simple affectation or two, like a unique knife, personalized flask, wee globe, ship-in-a-bottle or exotic corkscrew.
Your home bar should be one of the pleasure centers of your castle. A hub of good times, leisure and connoisseurship. And an expression of your personal style and aspirations.
Above all else, no matter how you build your home bar, the truth remains that nothing lends the right kind of charm like a good companion to raise a drink with.
To your health...