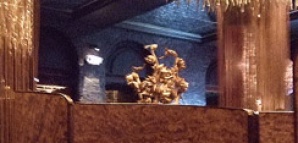 When you dine beneath 2,000 dangling samurai swords pointed down at you, it'd better be a damn good meal...or there'd better be something on your plate worth slicing.
You'll be happy to know that there's both at Jeffrey Chodorow's
Kobe Club
, which soft-opened to friends and family last night and opens to the public on Monday.
Tucked away behind an unmarked wooden door on
a midtown block that is no stranger to beef
, Kobe is 19th century izakaya meets LES speakeasy meets premium meat (trust us, it makes perfect sense). With black brick walls covered in linked chains and samurai swords (clearly this is not a break-up spot), hoof-shaped private leather booths, and a plasma-screen fireplace roaring in the back, Kobe may be the sleekest thing we've seen in the neighborhood (although let's be honest, the Lehman Brothers cafeteria is pretty hot).
If all that's not exciting enough, taking in the menu's Wagyu beef matrix might be. You can order Japanese, American, American Prime or Australian beef, and get it as filet, strip loin or rib eye cuts. If you're more of a dabbler, try the Wagyu "flights," tasting menus of smaller portions. Throw it all back with a
Blonde Velvet
(champagne with craft-brewed ale and half-and-half) or, if the night's going really well, a
Death by Whiskey
(enough said).
For all its fanfare, Kobe is actually quite intimate, perfect for grabbing a group to see and be seen among the town meat-eaters. Rumor has it that the spot will go late into the night with half-bottle service and platinum Monopoly and backgammon...because regular Monopoly just doesn't work with kobe beef.