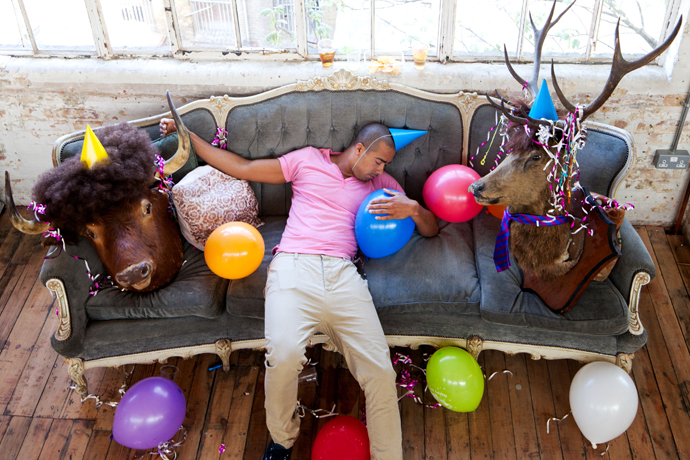 You've got a lot of drinking to do these next few days.

Margaritas for Cinco.

Juleps for the Derby.

Beers for, well, both.

Yes, one could argue that Cinco de Derby (trademark pending) is the booziest, sugar-iest weekend of the year. Which can only mean one thing: you're probably waking up Sunday morning or early afternoon to a cruel, life-sucking hangover.

So, in an attempt to assuage your pain, we've asked our editors to share their favorite, most unconventional hangover cures.

If that Advil just isn't doing the trick, you may find them useful...

Sam Eichner: A cold chocolate milkshake with hot coffee and some sort of egg-based breakfast is surprisingly effective. I like to think of it as a makeshift Icy-Hot patch for your achy brain.

Thompson Brandes: A BLT with a banana, coconut water, coffee and Advil, followed by a brief sob in the shower. After that, a Michelada puts me in a pretty solid place.

Geoff Rynex: A Lone Star consumed over the course of a 20-minute-plus shower, followed by a one-hitter and a spinach omelette with a banana on the side. Throughout, Animal Collective's Feels is playing softly.

Kelly Larson: A giant plate of biscuits and gravy from my local southern diner is my tried and true. A single shitty beer by the pool afterward and I'm close to being a real live human man again.

Hannah Kim: Korean soups. Tried-and-true since I was 13. They're called haejangguk which translated means hangover soup and are typically meat based. There's a bunch out there but these have always been my go-to top 3:

1) Gomtang - oxtail/beef bone broth that's been cooked for hours with the finished product resembling a milky liquid. I assume the amount of iron in this dish helps replenish the body.

2) Spicy Kongnamulguk (the very first hangover remedy I've ever had as a kid) - it's a soybean sprout based soup. Very clean in taste. I like it with some korean red chili pepper flakes to give it a nice kick. The healing properties come from the sprout itself – filled with a ton of asparagine that help combat your hangover.

3) Yookgaejang - spicy beef stew. I like it extra spicy. It helps you sweat out the toxins, is iron packed from the beef, and also contains asparagine from the bean sprouts. Plus, it tastes fucking amazing.

Hadley Tomicki: It's been a while but this used to work in college: Wake up hungover. Immediately take two bong hits and screw whatever is next to you. Go back to sleep.