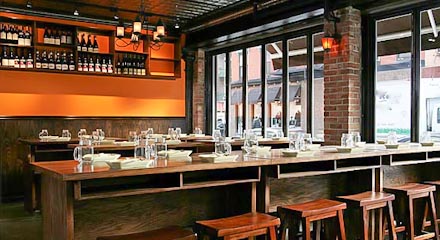 Unless you've been hiding under a very large rock, you've heard all the hype about
Kampuchea Noodle Bar
, the new LES
Cambodian
noodle bar.
Having done some very rigorous "testing," we'd like to be the first to bring you the verdict—Kampuchea: it's open, mighty tasty and worth the no-rez wait
Go Big, Go Deep: The noodle soup bowls and portions are bigger than Momofuku's, and the Cambodian flavors are intense—think rice and glass noodles instead of ramen, with filet mignon and prahok (fermented gourami fish). Or make your own.
Man Cannot Live On Apps (Alone): Although here, you can...made for sharing, apps likely to become house favorites are the Grilled Baby Cuttlefish (think calamari, only meatier) and Grilled Sweet Corn (with coconut mayo) that will give Café Habana's grilled corn a run for its money.
BYO: Our favorite initials. Until their liquor license (already approved, yet to be delivered) gets slapped into their hands, take advantage and bring your own spirits. But it may happen any day now, so call first.
The Juice Is Loose: In a nod to Cambodia, chef Ratha Chau will serve up some incredible fresh juices (lychee, mangostein, pineapple)—and in a nod to Manhattan, he will spike them, once he gets that liquor license. Mason jars with handles make any drink taste even better.
Four's Company: If you're not into rubbing elbows, grab a group and take refuge in Kampuchea's cozy four-tops (if you really dig slurping noodles with strangers, you still have communal tables and the bar). Clever cubbies at the tables let you stash your wallet and cell.
The noodle wars are on—we suggest you dive into a steaming bowl and wait for this to all blow over.