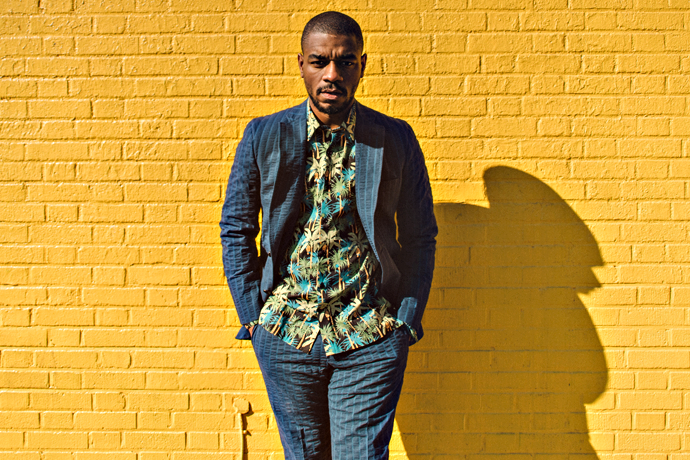 Preamble:
In the weeks leading up to the spring equinox, we have assembled here a Bill of Rights of sorts, for governing your spring style. Most of which may or may not hold up in a court of law.
Amendment I: Freedom to Layer.

Fall usually gets all the attention when it comes to seasonable layering, but it's just as important to be sartorially nimble in the spring—just swap the tweed and light wool for waxed canvas and knit cotton.
Amendment II: The Right to Bare Forearms. (Sorry, couldn't help ourselves.)

By which we mean that wearing long sleeves that can be easily rolled up is the move here—not wearing a T-shirt and just hoping for the best.
Amendment III: Within Reason, One May Begin to Forego Socks.

With a few caveats. The first is: don't push it. The second is to make sure the shoes warrant it—like snuff suede loafers or a pair of weekend sneakers. The third: don't put your ankles in any compromising positions. The fourth: if you've read this far and you're still not sure, just keep the socks on.
Amendment IV: In Denim We Trust.

Whether it's
a light-wash pair of jeans
or a trusty denim jacket for layering, you can rely on the workhorse fabric in all of its forms.
Amendment V: Refrain From the Use of Linen, Madras and Seersucker Until Absolutely Necessary.

These typically summery textiles look out of place until the temperatures reach into the '80s. Or until the garden party circuit starts up.
Amendment VI: But You Do Have Permission to Turn Up the Volume a Bit.

Spring is a colorful time—the forest greens begin to look more kelly green, your navy blues give way to cobalt blues, and so forth.
Amendment VII: In Suits as in All Aspects, It's Time to Lighten Up.

That means lighter fabrics and colors. For the former, think cottons and fresco wools. For the latter, see Amendment VI. (Also see: the main image, above, from
Freemans Sporting Club's S/S 2017 lookbook
.)
Amendment VIII: Be Wary of Impending Rain Showers at Any Moment.

You'll want to be prepared for whatever the weather throws at you. Luckily, we've put together
a solid situational guide here
.
Amendment IX: Not All Raincoats Were Created Equal.

There are plenty of good options when it comes to raincoats—from anoraks to trench coats—but there really isn't a cure-all answer, so you'll want to assemble a small arsenal of rain-fighting gear.
Amendment X: A Well-Regulated Grooming Routine Is Just as Important to Your Spring Transition.

Along with the seasonal wardrobe shift should come a seasonal grooming shift—ditch the musky scents for brighter ones, and for goodness' sakes, trim that damn beard.