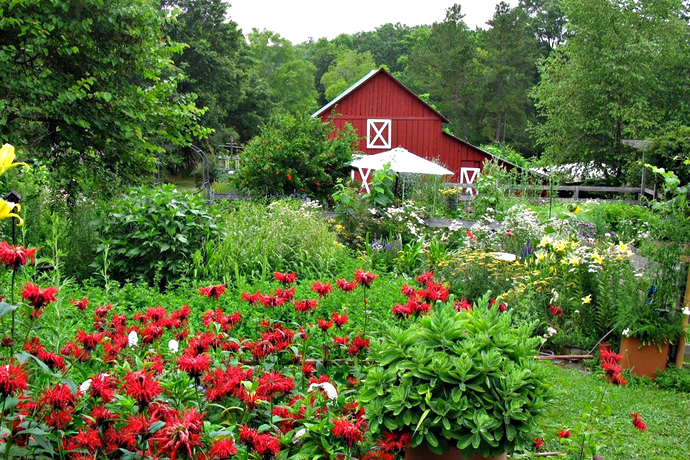 Bluebird Hill Farm is a picturesque organic farm in North Carolina, an hour or so south of Greensboro. That's it above.

Over the years, its owners have populated its gardens with okra, asparagus, tomatoes, squash and onions. The property includes a home with a sizable master bedroom and bath, an open floor plan kitchen, a living room, a dining room and a front porch, from which one can look out over the lush land to the barn, framed against the fading light of a long country day. And in case that wasn't lovely enough, there's also a small pond, as well as a lavender field, which looks like a stock picture you'd see on a postcard from somewhere really, delightfully boring.

Now, you might be wondering, "UrbanDaddy, why are you telling me about a random, albeit quite enticing, farm in North Carolina? It seems cruel. Also, you have the word 'urban' in your name, yet here you are dabbling in farms. What gives?"

Well, the reason is simple: the owners of this farm are giving it away for free. Like, delicious-cheese-samples-at-Costco free. All you have to do is enter an essay contest and write 200-words explaining your desire to own and operate this very farm by June 1. If they like yours best, free farm.

So as people who write words ourselves, we've decided to help you in this noble endeavor by answering some questions you never actually asked but might be quietly keeping to yourself, hoping someone else will ask.

Good luck.

This farm looks like a Cialis commercial, give or take the tacit acknowledgment of a dysfunctional downstairs. But I really, really want to own it. Where do I start with this essay?
Whatever you do, do not start with what you just said.

Noted. So what's my way in here?
Go personal. How does the prospect of owning an organic farm make you feel? What in your life has prepared you for operating said farm? Do you have a Proustian relationship to okra that nobody knows about? Did you lose your virginity on a bed of wild asparagus?

If this method fails, either a) make something up about losing your virginity on a bed of wild asparagus and then copy us on your submission so we can read it; or b) position your desire for farm ownership as a small contribution to society-at-large. People love that sort of thing.

Okay. Here's another issue: what if I don't know the first thing about farming?
Find someone that does, and tell them that you'll use your rhetorical skills to win the farm if they can handle the day-to-day. Then, make the essay this whole romantic thing about how you want to win the farm for this person who's always dreamt of owning an organic farm, but never had the means. They're looking for couples to take over, anyway. So there's that.

Are there any key words or phrases I should include?
Bucolic, local, Henry David Thoreau, social impact, sustainability, eco-friendly, living off the land, Into the Wild, Bill Bryson, green...

Are there any I should avoid?
Wal-Mart, debilitating allergies, sealed juvenile record.

Should I try a creative format to grab their attention?
The form should always match the function. So only do something out-there if it serves the story you're trying to tell. For example, you should only write a series of short haikus if it embodies the overwhelming sense of peace you'd feel sitting on the front porch of your new organic farm.

I'm thinking of starting my essay with a subtle reference to M. Night Shyamalan's 2008 nature-y sci-fi thriller, The Happening. Good idea?
Bad idea.

200 words sounds like a lot. What if I just draw them a willow tree instead?
That would be cool, but the odds that it results in you winning this farm are... not good.

Do you have any font recommendations?
Georgia is very pleasing to the eye, and the only font within a reasonable proximity to North Carolina.

What do I have to lose here, other than my precious time?
Well, there is a $300 entry fee...

What happened to it being free?
Nothing in this world is free. Even free farms, apparently.