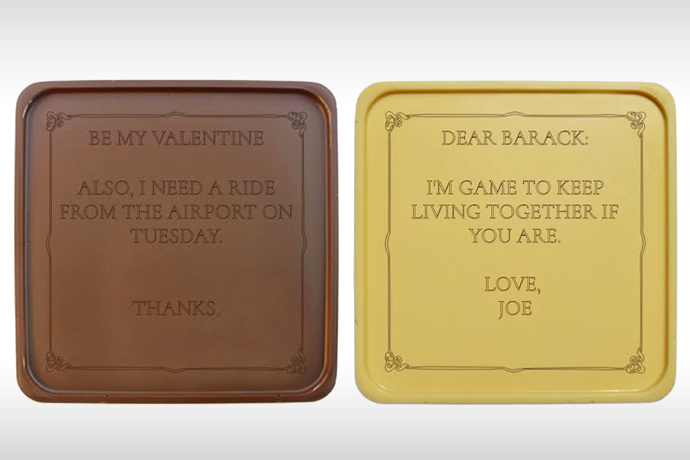 You're probably aware (please be aware) that Valentine's Day is a thing that is happening in the near future. As such, someone new, special or otherwise in the picture will be expecting a gift.

And a card-shaped piece of chocolate containing a laser-engraved personal message technically qualifies as a gift...

Noteworthy Chocolates is a new operation that's printing custom messages directly onto chocolates. Chocolates that are available in four varieties and with different cacao levels, and that come in shapes ranging from 5-by-5 cards to letters and even certificates. Pretty wild. You can order one now and have it delivered in time for Valentine's Day.

Only thing left is to think up the perfect message to write on that chocolate. But don't worry, we took the liberty of jotting down a bunch of heartfelt messages your recipient is sure to love.

Well, "love" is a strong word...

—Will you be my valentine/pick me up from the airport on Tuesday?

—This chocolate bar good for one free massage.

—If you're reading this, good, it didn't melt in transit.

—Just add wine.

—I taste better than flowers.

—In another life I was a sexy fondue party.

—Cacao much do I love you? Enough to send this thing.

—(Front) Turn me around. (Back) Made you look.

—Melts in your mouth, and probably in your hands.

—Eat after reading.

—I'm pregnant!

—You're pregnant!

—The store was all out of conversation hearts.

—Dear Barack: I'm game to keep living together if you are. Love, Joe.