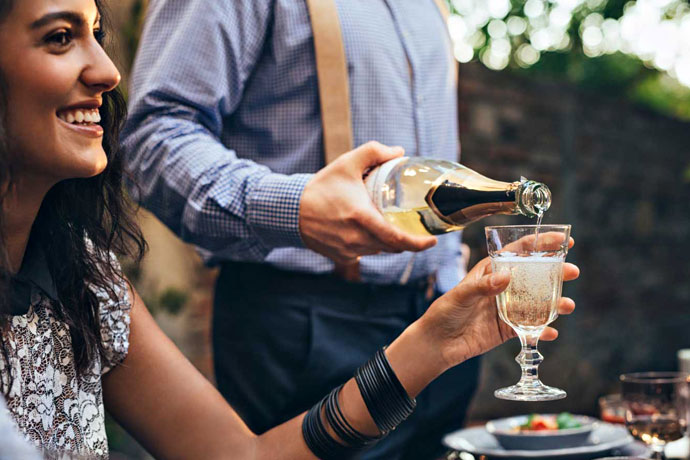 There comes a time in everyone's life when they must acquire a nice bottle of wine. To pair with dinner, for a party or as a thoughtful holiday gift for that hard-to-please boss.
Speaking of which... whoops.
Better get on that.
So here's Verve Wine, a new corner of the Internet that's sporting 1,000 wines handpicked by master sommelier and former Eleven Madison Park wine director Dustin Wilson. It's all online now, so get browsing.
Next year, these guys will implement a fancy recommendation algorithm that will suggest wines based on your previous orders. The recommendations will be built around tasting notes (looking at you, currants), wine characteristics and other details that Wilson himself puts into the system. So even though the word "algorithm" is being deployed here, every single bottle will still be chosen by our new master sommelier friend.
Until then, we turned to Wilson himself for some helpful advice on exactly which wines you need in your life right now.
Says Wilson: "Holiday food covers a wide range of flavors, so we like to stick to whites with bright acid and without any woody/oaky flavors, and red wines that are more savory and dry rather than bold and fruity. We also break out a lot of sparkling wine over the holidays, and it's also a fantastic time of year to drink Beaujolais. The soft, silky fruitiness of the wine makes it a great pairing with ingredients like squash, sweet potatoes, figs and more."
Sounds good to us. Now, for some expert picks to consider, employ and then take credit for...
To pair with your holiday dinners:
Guido Marsella Fiano di Avellino Bianco 2013
($24). "A salty, smoky white from the Campania region of Italy. Pairs well with shellfish, seafood, cranberry sauce, turkey and pork."
Yann Bertrand Fleurie 'VVV' 2014
($32). "Glossy, gulpable gamay from a rising rock star in one of the hot spots of Beaujolais. The epitome of delicious. It pairs well with sweet potatoes, butternut squash, turkey and Chinese takeout."
Giacomo Conterno Barolo 'Monfortino' 2002
($750). "The king of all the Barolo wines, this is where it's at. Pairs well with your favorite risotto with white truffles shaved all over it."
To drink on New Year's Eve:
Francois Chidaine Montlouis sur Loire Brut NV
($20). "Just a really tasty bubbly."
Chartogne-Taillet 'Heurtebise' Blanc de Blancs Brut Champagne 2009
($71). "This is Alexandre Chartogne's ode to chardonnay, from the limestone-rich Heurtebise vineyard, combining brioche-y depth and sharp minerality."
To score some points with your boss or in-laws:
Dhondt-Grellet Brut Champagne Dans un Premier Temps NV
($39). "Champagne is super easy and always a good idea. This is a small grower producer that's both powerful and elegant at the same time. Not to mention it's a great value."
To buy for yourself, whenever:
"Any of the other 994 bottles on the site."
That last bit came from us. We just wanted to feel included.