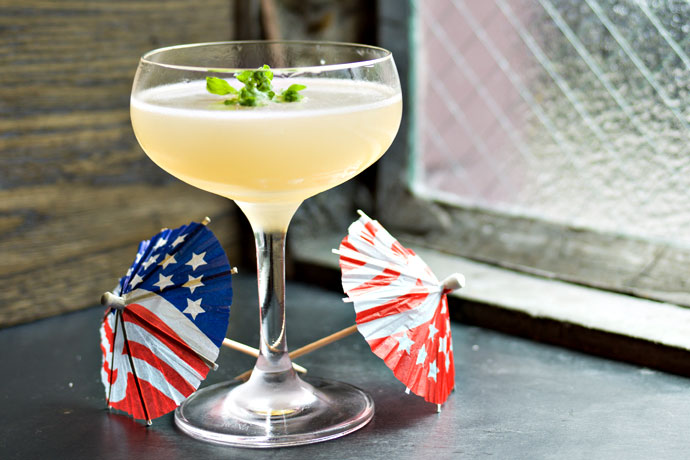 At long, painfully awaited last, Election Day is nigh.
Our country's future will be decided. And maybe, finally, we can start talking about something else.
But don't let the tiresome nature of election season dissuade you from pounding the pavement and making your voice heard. Your vote counts. Particularly when it comes to deciding which election party you'll attend tomorrow night.
The ballot has been prepared. The candidates' positions have been stated. All that's left to do is exercise your civic duty and decide who has the most to offer.
Right this way, fellow Americans...
The Candidate:
Trick Dog.
The Talking Points:
Watch the returns while sampling from their election-themed cocktail menu. Nothing like a Drill Baby Drill! with rye, Amaro Lucano and long pepper to stoke the patriotic fire.
The Spin:
Trade your "I Voted" sticker for a Trick Dog campaign button and a gratis red or blue shot.
3pm-2am, no cover, Trick Dog
The Candidate:
The Chapel.
The Talking Points:
The Chapel will be screening live election coverage in their big, beautiful concert space.
The Spin:
DJ Jonathan Toubin will take the stage as soon as results are announced, spinning '60s soul and R&B on vinyl. Whether you're celebrating or generally being pissed, a late-night dance party sounds about right.
5pm-2am, no cover, The Chapel
The Candidate:
Ferry Plaza Wine Merchant.
The Talking Points:
Sample from the FPWM's fantastic wine, cheese and charcuterie selections while watching the election coverage.
The Spin:
Count on zero corkage for any bottles you procure. You can bring in food from other Ferry Building vendors, too, in case Hog Island oysters or Slanted Door imperial rolls sound appealing.
4:30-8pm, no cover, Ferry Plaza Wine Merchant
The Candidate:
SOMA StrEat Food Park.
The Talking Points:
They'll be screening the results on 10 big screens. Beer and sangria will be flowing, and the food truck offerings will include anything from dumplings to ramen to burgers.
The Spin:
Happy hour runs from 4 to 7pm with a follow-up happy (or angry) hour once the results are announced.
Noon-10pm, no cover with RSVP, SOMA StrEat Food Park
The Candidate:
Pizzaiolo.
The Talking Points:
The best pizza spot in Oakland is showing the election, with ample pizza, snacks and drinks.
The Spin:
That aforementioned best pizza in Oakland... yeah, you won't be paying for that. It's all gratis, which means we all win.
6pm until the results are in, no cover, Pizzaiolo