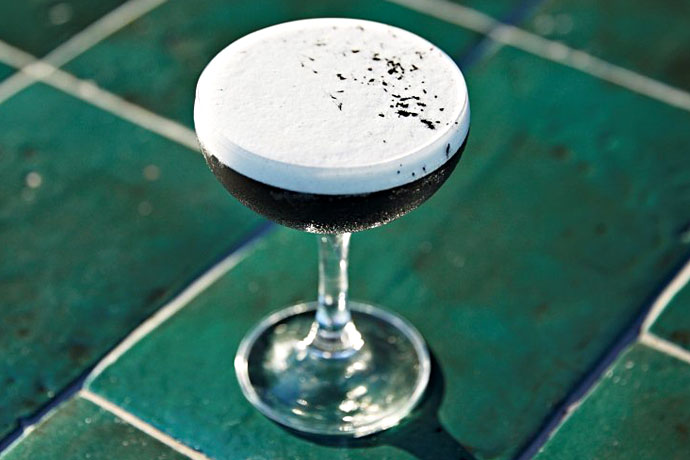 As you venture out into the night to celebrate Halloween, you may be presented with a pumpkin beer or something in the questionable punch category. We'll not stop you from partaking in either. But we will present you with an alternative: charcoal.
Activated charcoal allegedly is healthy and helps to flush toxins from your body. Sure, we'll buy that. And since toxins in this case might be comprised of those pumpkin beers, questionable punches and multiple handfuls of fun-size Butterfingers, well, you probably need all the appropriately themed help you can get.
So here we've got six black-as-night cocktails for your consideration, each harboring a bit of charcoal and a bit more liquor. Just consult the recipes and proceed to your nearest Halloween party.
It helps if you were invited, but no one's turning away these drinks.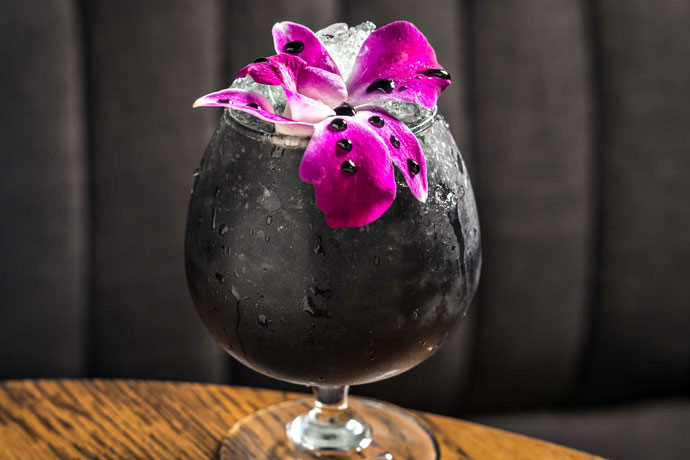 Heart of Darkness
Pouring Ribbons, NYC
1 1/2 oz Cimarron Tequila
1/2 oz Koch Espadin Mezcal
1/2 oz lime juice
1/2 oz agave syrup
2 barspoons activated charcoal raspberry preserves
1 dash Bittermens Mole Bitters
Add one 370-gram jar of raspberry preserves to five teaspoons of activated charcoal, and use an immersion blender to integrate. Then combine all ingredients and shake with ice. Serve over crushed ice in a snifter with an orchid on top.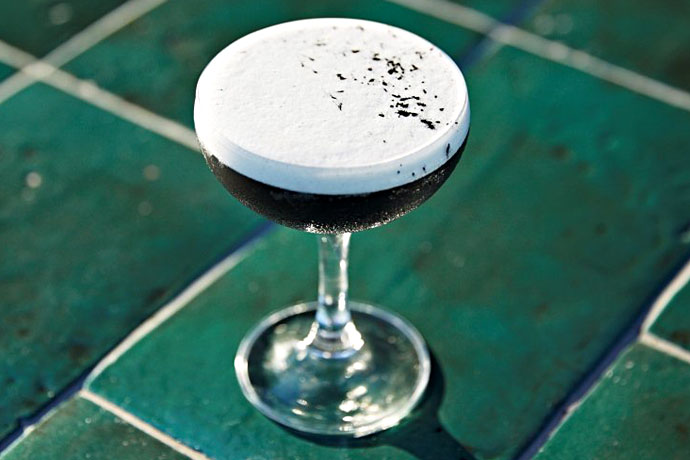 Black Thai Optional
E.P. & L.P., Los Angeles
1 1/2 oz gin
1/2 oz Giffard Lichi-Li
1/4 oz Amaro Montenegro
1/4 oz rich simple syrup
3/4 oz fresh lemon juice
1/2 oz egg white
1 pinch coconut charcoal
Shake all ingredients hard without ice. Then shake again with ice. Double-strain into a sour glass, and dust coconut charcoal on top for garnish.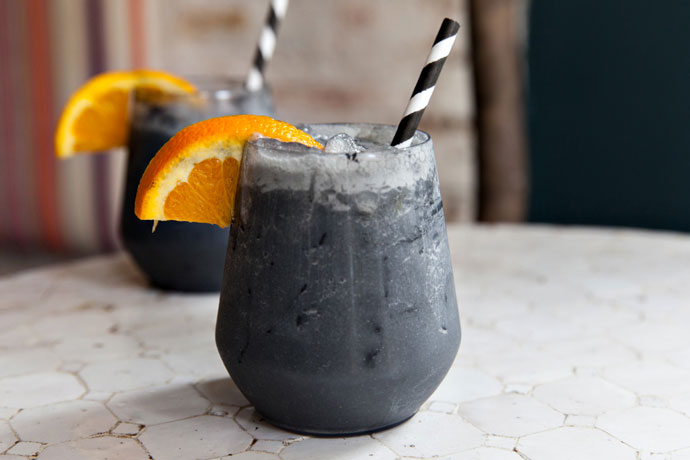 Dreamsicle
By Chloe, NYC
1 oz vanilla vodka
1 oz triple sec
2 1/2 oz fresh orange juice
1 1/2 oz "vegan half n' half" (cashew milk/almond cream blend)
1/2 tsp activated charcoal
Combine all ingredients and shake vigorously. Strain into a rocks glass over ice and garnish with an orange slice.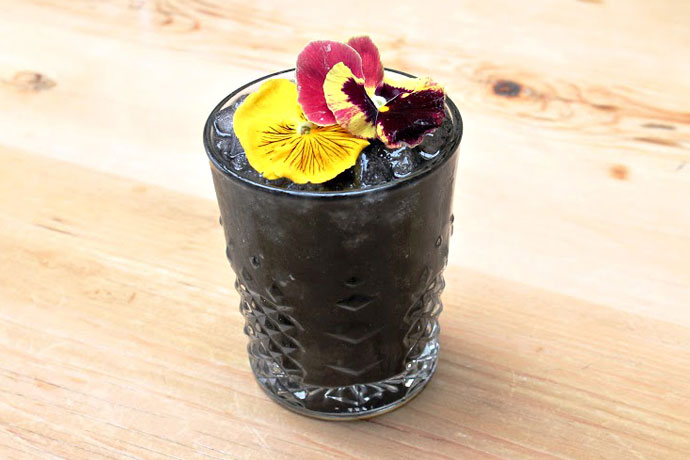 Reanimator
Cindy's, Chicago
1/2 oz Avua Cachaça
1 oz fresh lime juice
1/2 oz blueberry-ginger demerara syrup
1/2 oz activated charcoal simple syrup
Shake all ingredients with ice, then pour everything into a rocks glass. Top with crushed ice and garnish with edible flowers.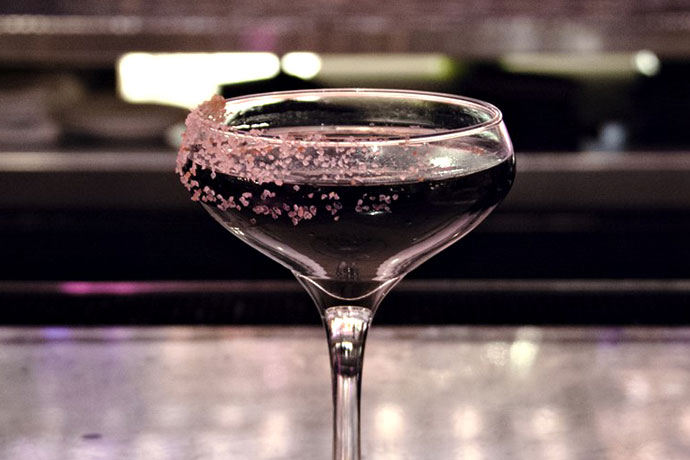 Black Tie White Noise

Beauty & Essex, NYC
1 1/2 oz Gentleman Jack
1/2 oz simple syrup
3/4 oz lemon zest
1/2 oz Yellow Chartreuse
1/4 oz Bruichladdich Port Charlotte Scotch
2 dashes Angostura bitters
1 capsule activated charcoal
Shake all ingredients with ice, then strain into a coupe.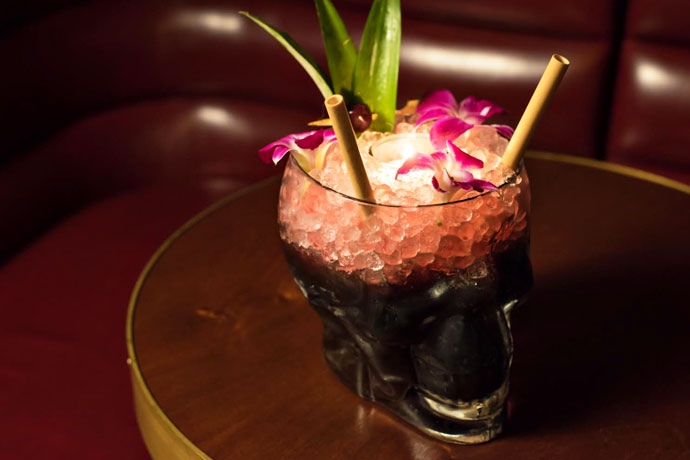 Perla Negra
Slowly Shirley, NYC
2 oz Santa Teresa 1796 Rum
1/2 tsp activated charcoal
1 oz kalamansi juice
1 oz orange juice
1/2 oz honey
1/2 oz ginger juice
1 oz arrack
2 oz Sorel liqueur
Add activated charcoal to shaker. Add the rest of the ingredients, except the Sorel. Shake with three large ice cubes, then strain over crushed ice into a skull vessel (or a rocks glass). Pack a lit votive candle into the crushed ice, and pour the Sorel around the candle. Garnish with orchids.