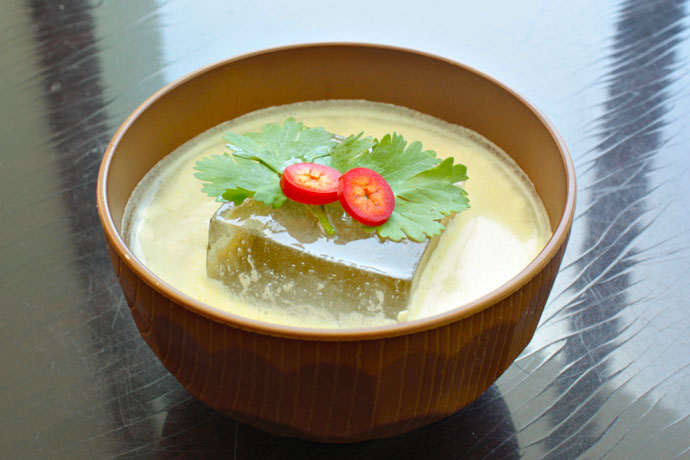 "Let me get a shot of tequila with a Thai curry back."
What a strange thing to say.
It's like our fictional speaker doesn't know that you can now get them together, as one.
You do, though. Because you're reading about the Same Same, a quaffable cocktail from drinksmith Chris Adams of Orange County's
YNK
.
It sure looks like a bowl of something comforting you'd be served at a Thai restaurant. And it kind of is. Except here you've got a tequila-spiked effort featuring the savory flavors of Thai basil, coconut cream, yellow curry powder and chilies.
Tequila...
You always knew soup was missing something.
Same Same
2 oz Casamigos Tequila
1/2 oz fresh lime juice
1/2 oz Coco Lopez
1/2 oz Thai basil syrup*
1 barspoon yellow curry powder
4 slices Fresno chilies
Lightly muddle chilies in a tin, add remaining ingredients and stir to dissolve curry powder. Add ice, shake and strain over large rock of ice, preferably in a miso bowl. Garnish with cilantro leaves and Fresno chili slices.
*Thai Basil Syrup
2 cups water
2 cups sugar
3 stalks Thai basil
Combine all ingredients in a pot and heat on medium. Stir until sugar is dissolved. Bring to a boil, then simmer for five minutes. Remove from heat, cool, strain and use.